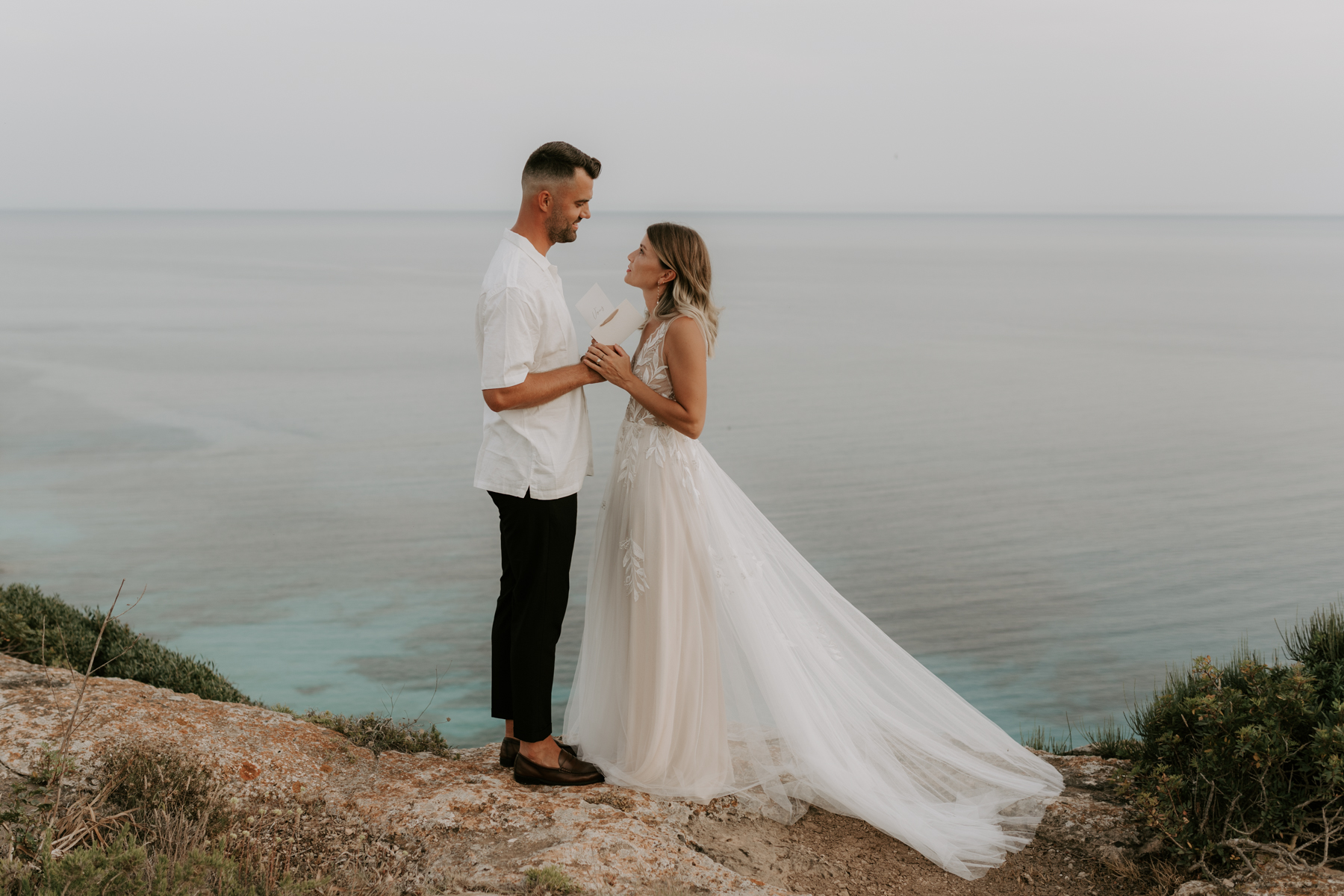 Let's elope in Mallorca
Isn't it crazy that in this day and age we can so easily travel to almost any place in the world to get married? It never fails to amaze us what is possible and our hearts are full of gratitude that we get to be with so many lovely couples as they promise themselves the most beautiful thing in the world. This was also the case with Diane & Peter. The two have been living in Mallorca for a few months and love the island as much as we do. For the two of them, it was of course obvious that Mallorca should be the place where they will give each other their wedding vows. And it turned out so much more beautiful and intimate than we could have imagined before. Their elopement in Mallorca was romantic and soulful, on a magical cliff, below us the beautiful sea that was shining in the most amazing shades of blue & turquoise that day. The silence that surrounded us allowed us to completely immerse ourselves in this moment. While we attend many weddings that are loud, wild and full of people (no less beautiful, of course), we enjoyed this pure, magical moment. It was all about the two of them, their story and connection to each other. Their elopement in Mallorca is one of our absolute highlights and still our thoughts drift back to that one day in June.
A magical dress for their Mallorca elopement
And can we please talk about how beautiful the two of them looked? Diane was an amazing, almost elf-like bride and her dress by Anna Kara via Edelbrautmoden just fit her and her personality perfectly and made her shine so much. The wind made her light dress dance and look so beautiful in the pictures.
You can tell, we could go on raving about this elopement in Mallorca forever and we are sure you will love the pictures as much as we did.
A thousand thanks Diane & Peter for this unique experience and thank you for showing us what matters most: the deep connection of two people who couldn't live without each other and between whom no piece of paper fits. Our hearts are full!
Dress: Anna Kara via Edelbrautmoden