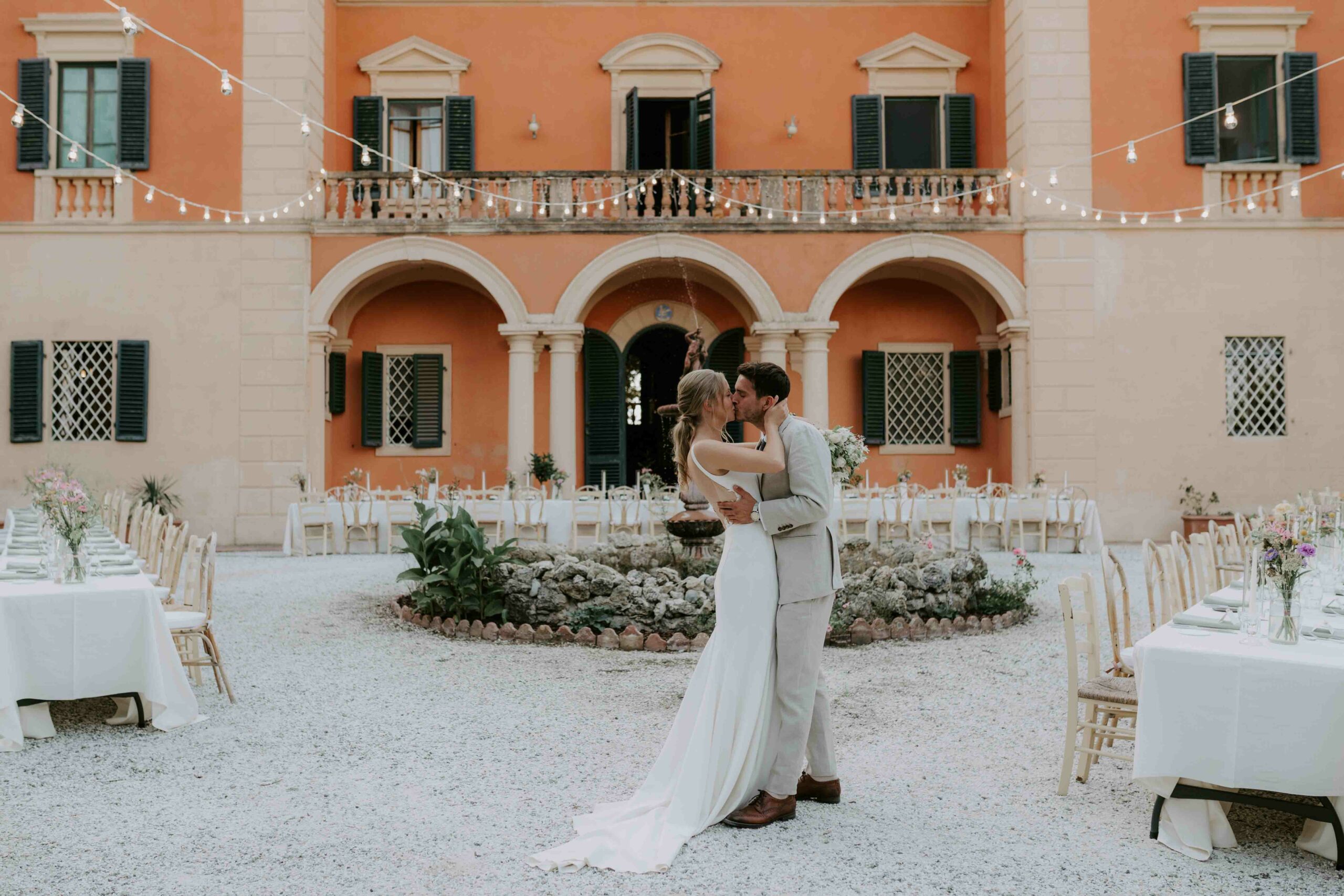 Ciao friends, here comes the ultimate insider tip:
If you are looking for a wedding venue in Italy that combines the old with new elements, that preserves and protects both nature and culture and, by the way, is located in the middle of nowhere, surrounded by beautiful vineyards and olive groves. So you can really let loose at your wedding party, then by all means read on and be enchanted by this piece of gold, called Villa Lena in Tuscany.
We couldn't resist the charm of Villa Lena in Toiano, located close to Pisa and are still dreaming of this wonderful place that has so much to offer and discover. It is the absolute dream location to get married with plenty of space for all your loved ones and countless possibilities. To relax, party and take the most beautiful wedding pictures!
In August, we went to Italy once again for a wonderful Tuscany wedding. We are simply blown away by this place, not least because we got married there ourselves in July 2022. It was simply beautiful! And just as unique was the wedding of Eva & Joshin at Villa Lena, a gorgeous location near Pisa, where we have already been able to accompany wonderful weddings several times.
"Vacanza d'amore", in English "holiday of love", was the motto of this Tuscany wedding and it couldn't have been more fitting. It started with a fun pizza party by the pool the night before their wedding to get everyone in the right mood and build up the excitement for the day ahead. Eva & Joshin's wedding party was diverse and colourful, with many of their guests travelling from a variety of countries to celebrate this Tuscany wedding at Villa Lena. This meant an amazing atmosphere right from the start.
A dream of a Tuscany wedding venue
The day of the wedding was filled with emotional highs, many many tears, tight hugs and loud laughter. The couple's Tuscan wedding gave off la dolce vita vibes everywhere you looked and really captivated everyone. The gorgeous setting of the villa, the golden light and the most delicious food ever also contributed to making everyone feel like they could embrace the whole world. Weddings abroad like this Tuscany wedding are so much fun and combine the most beautiful day in the world with a feeling of holiday and relaxation. For us, simply the best combination to celebrate love in an unforgettable way.
We are so grateful to have accompanied this Tuscany wedding and are still dreaming about this weekend.
Pure amore!
The best Team:
Photo & Video: The Santoros
Venue & Catering: Villa Lena
Hair & Make Up: Karina Franco
Wedding Dress: Lovers Society via Hey Love
Flowers: Das kleine Grüne
Stationary: Cottonbird