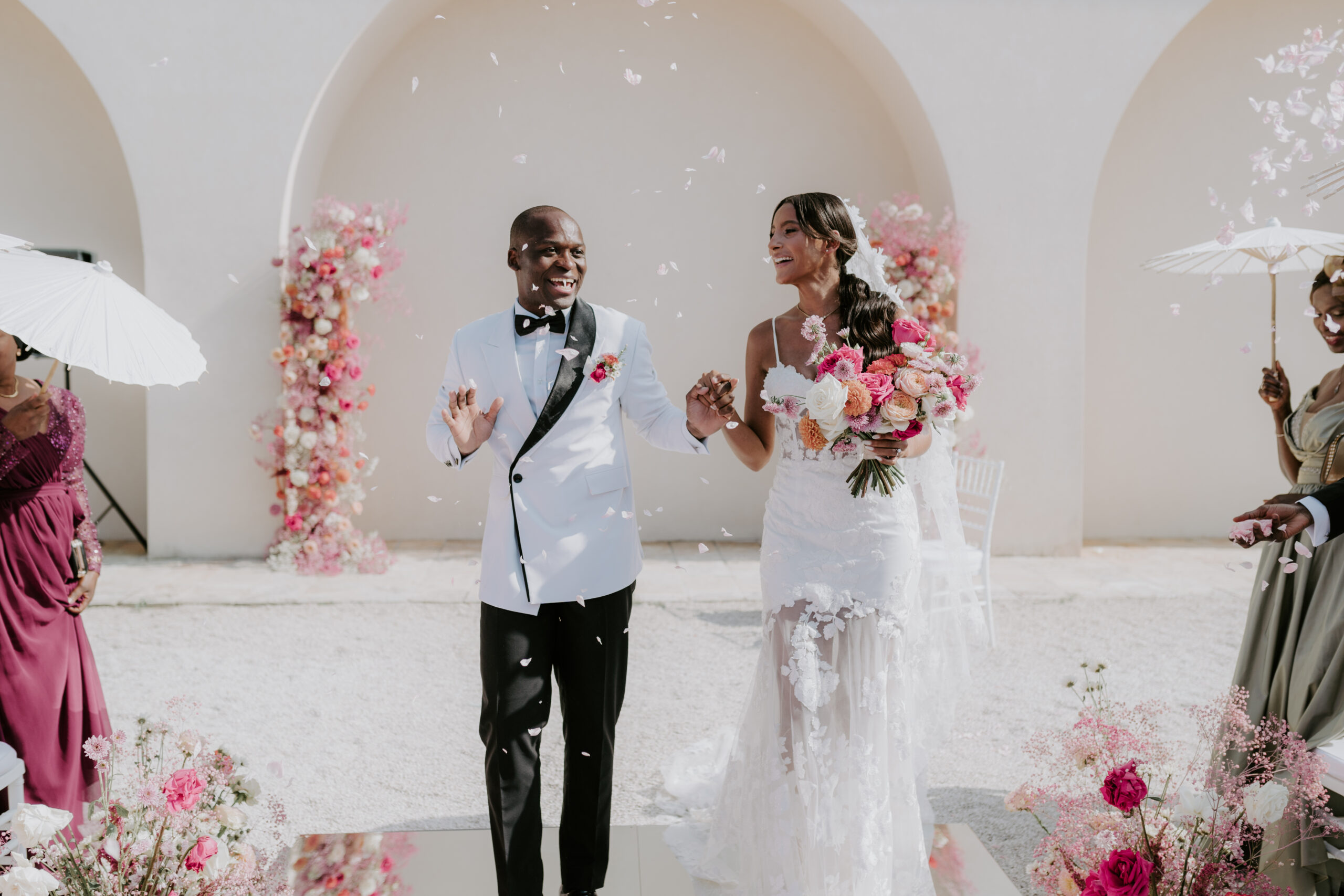 Located just a 15-minute drive away from Matera, the oldest city in Europe, Masseria Fontana di Vite is a boutique hotel that exudes rustic charm and tranquility. Its name, inspired by an old tradition, recalls the resident's pilgrimage to its pristine water source. The hotel offers exquisite accommodation with luxurious amenities in the heart of the Puglia region, evoking the region's architectural and cultural richness. Its picturesque corners, secluded courtyards, and stone-walled rooms create an immersive experience for guests looking for a peaceful escape. The hotel's white walls provide the perfect backdrop for photoshoots, and its exquisite architecture makes it a must-visit destination while exploring Matera. The Masseria Fontana di Vite is an oasis of calm, history, and tradition – perfect for those looking to unwind or getting married in style.
Jacky & Chris committed themselves to love and a lifetime of togetherness in an emotional Masseria Fontana di Vite Wedding
The Masseria courtyard was transformed into a multicultural celebration of epic proportions, as Jacky & Chris committed themselves to love and a lifetime of togetherness. It was a picturesque and deeply emotional day, that celebrated African roots and traditions amidst an Italian backdrop of beautiful and colorful flowers. As guests arrived, the air was filled with happiness and excitement. The atmosphere was electric as tears of joy flowed down some faces, an undeniable testament to the love that the couple shared. Guests, dressed in their most stylish attire, added to the already gorgeous table setting, bathed in the warm light of the sunset. The Dinner was led with lively music that encouraged everyone to sing and dance. This Masseria Fontana di Vite Wedding was a perfect reminder of the beauty of love, tradition and culture, truly unforgettable.
Wedding Vendors, who made this day unforgettable:
Wedding Planner @from.sophie.with.love
Photo & Video @thesantoros
Venue @masseriafontanadivite
H&M @make_up_irasiz
Flowers @greenery_lab
Stationary @marrymood.de
Dress @iay_iamyours
DJ @mc.ernestoo @sydiigonzales
Saxophone @matteo_cascavilla_
Catering @nicoladebartologroup