Celebrate a Magical Puglia Wedding
Suppose you have always daydreamed about getting married surrounded by the enchanting beauty of southern Italy, the tranquil ocean, and historic castles. In that case, Puglia can be the perfect destination for you to celebrate your wedding in the most magical way possible. Puglia is no short of magical sceneries, lush gardens, and magnificent orchid yards to make your wedding worth remembering. From an array of splendid beaches and private castles to ancient Masseria and luxurious villas, Puglia has everything you can ever want for your fairytale wedding.
Catering to all your needs and providing a breathtakingly beautiful backdrop for your special moments, Puglia captures couples in its trance at the very first sight. Whether you are looking for a grand wedding venue to host a glamorous reception or a romantic villa to celebrate an intimate wedding, there are plenty of options for you to choose from.
To make it easier for you, we have curated this ultimate guide for planning a wonderful Apulian wedding. Here are the top five most beautiful, breathtaking, and bewitching wedding venues in Puglia, Italy.
Here Are Our Top 5 Picks for a Glamorous Wedding in Puglia
Puglia in Italy is not only immensely stunning, but it is one of our favorite regions in Italy. Boasting a magnificent coastline stretching to 800 kilometers, this authentic southern beauty is famous for several iconic highlights. For instance, the peaceful coastlines dotted with some of the most spectacular beaches in Italy and landscapes bestowed with olive trees add to the splendor of this exquisite location. With golden fields meeting the iridescent ocean in a harmonic composition, Puglia is a perfect place to experience organic southern flavors and the serene beauty of high-end villas.
Pettolecchia La Residenza
Are you looking for a historic castle with timeless beauty adorning its every nook and cranny? This exquisitely refurbished castle was built in the early 1800s amongst the Fasano beauty by a Noble Palmieri as a country residence; La Residenza has been intricately furnished to keep its authentic architecture and traditional beauty intact to meet the highest standard of luxury. It is an ideal location for you if you want a place that can offer you all the high-end amenities on your peaceful rural holiday without giving up on your everyday comforts.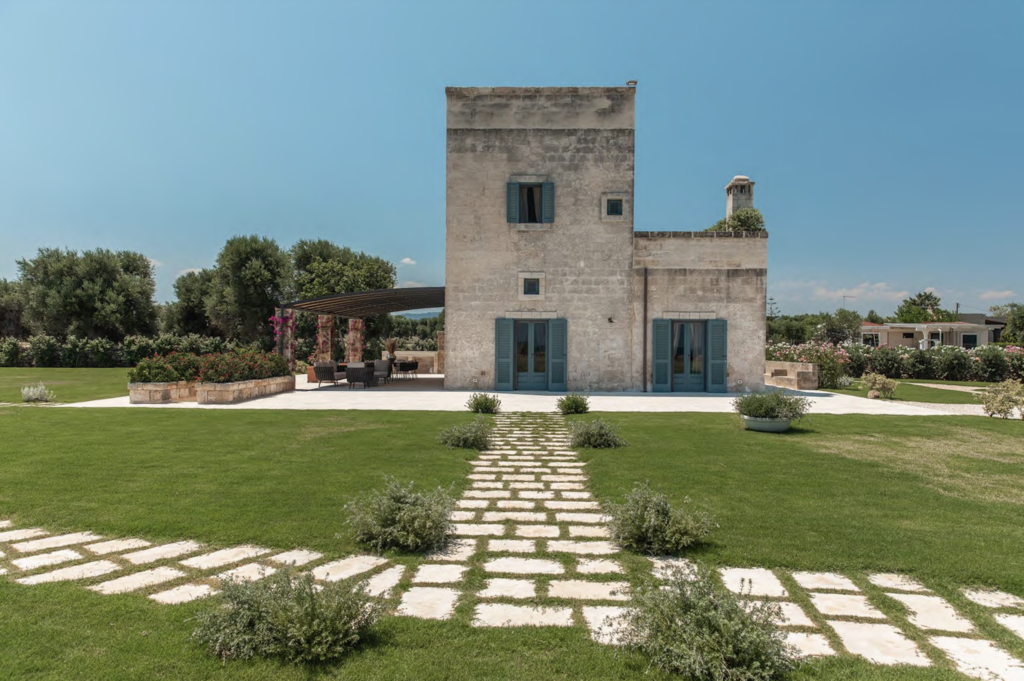 Pettolecchia La Piccola
This stunning villa is located along the Apulian coastline and boasts the most intricately designed furniture as well as a breathtaking view of the sea. The historic beauty was built by Savelletri of Fasano and is located merely 200 meters from the sea. Set on lush 150 square kilometers, La Piccola offers customers the height of luxury and comfort.
Facilitated with a heated swimming pool, a lush bar, panoramic terraces, and romantic outdoor dining settings, this place offers every high-end luxury that you will want to host an extravagant wedding. La Piccola also offers beautiful lush gardens accommodating 5 hectares of stunning fields and private access to Puglia's most exclusive beach clubs. This can be a perfect destination for your romantic elopement wedding.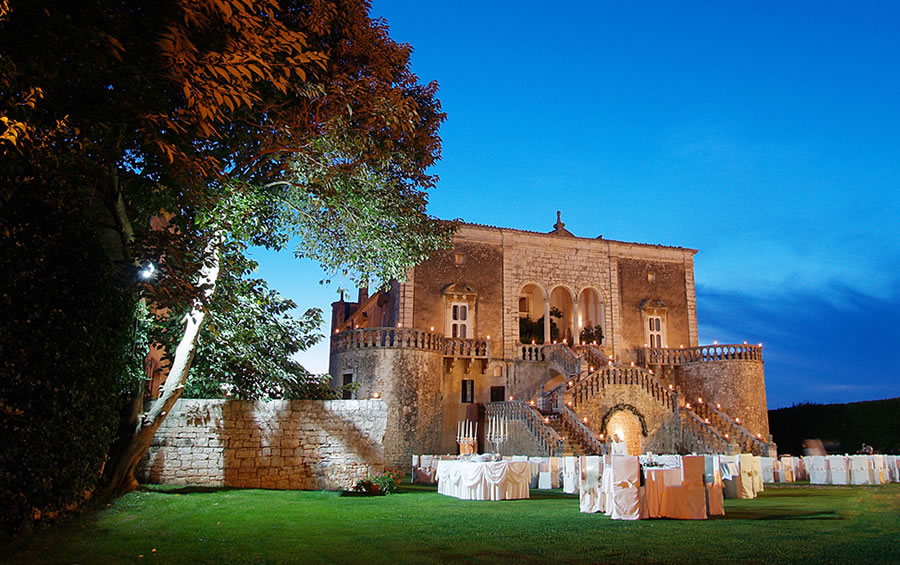 Castello Marchione
Here, your search for a romantic castle venue comes to an end. Castello Marchione has an absolute fairytale-like atmosphere with its characteristic wooded architecture, providing you with an idyllic and charming location to host your magical wedding. The place is impressively furnished and has elegant indoor space that can be used to host a romantic ceremony. The 18th-century castle was used as a hunting lodge and summer residence for the Acquaviva d'Aragona, counts of Conversano. It is now one of the most popular and charming locations for people to fulfill their dreams of an enchanting fairytale wedding.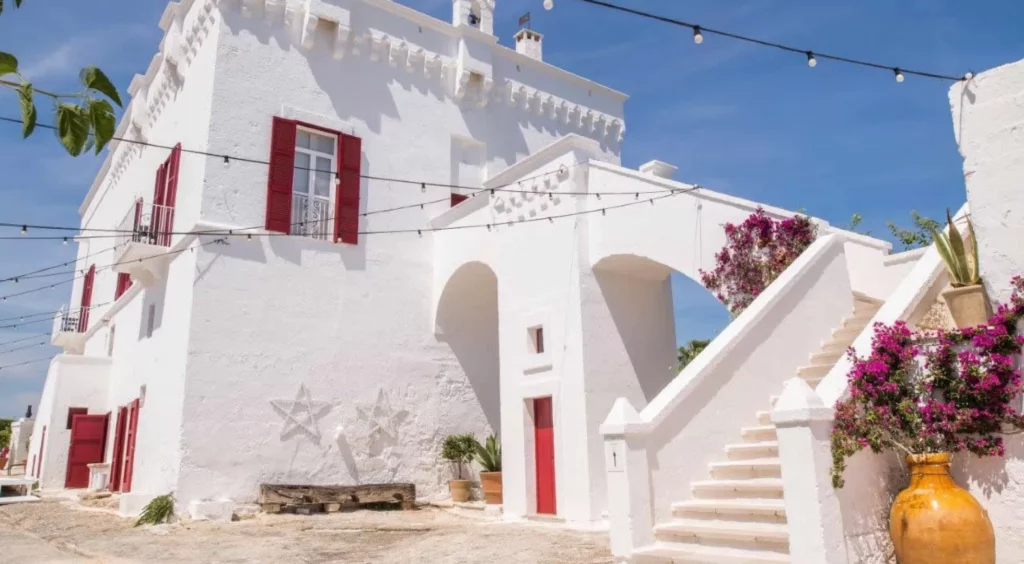 Masseria Torre Coccaro
Masseria Torre defines elegance and ancient beauty. This beautiful venue is located on a large estate with a stunning view of the blue ocean overlooking the stunning coastline with access to two of the most exquisite beach clubs. The venue has a lot of historical importance, making it an ideal location for you if you are looking for a place that is touched by the rustic beauty of ancient architecture. This venue was built in the 17th century by the Knights of Malta to protect themselves from invasion.
The venue also has stunning towers that provide you with a breathtaking view of the sun setting behind the sea. This place is absolutely beautiful, with antique furniture and comfortable suites. It is the perfect place for you if you want a luxurious destination for your wedding. The lush garden under the carob trees is the ideal place for you to enjoy the wedding feast and the ancient pizza right next to the chapels dates back to 1730. You can enjoy delightful music and experience culinary perfection surrounded by fortified walls and gorgeous bougainvillea.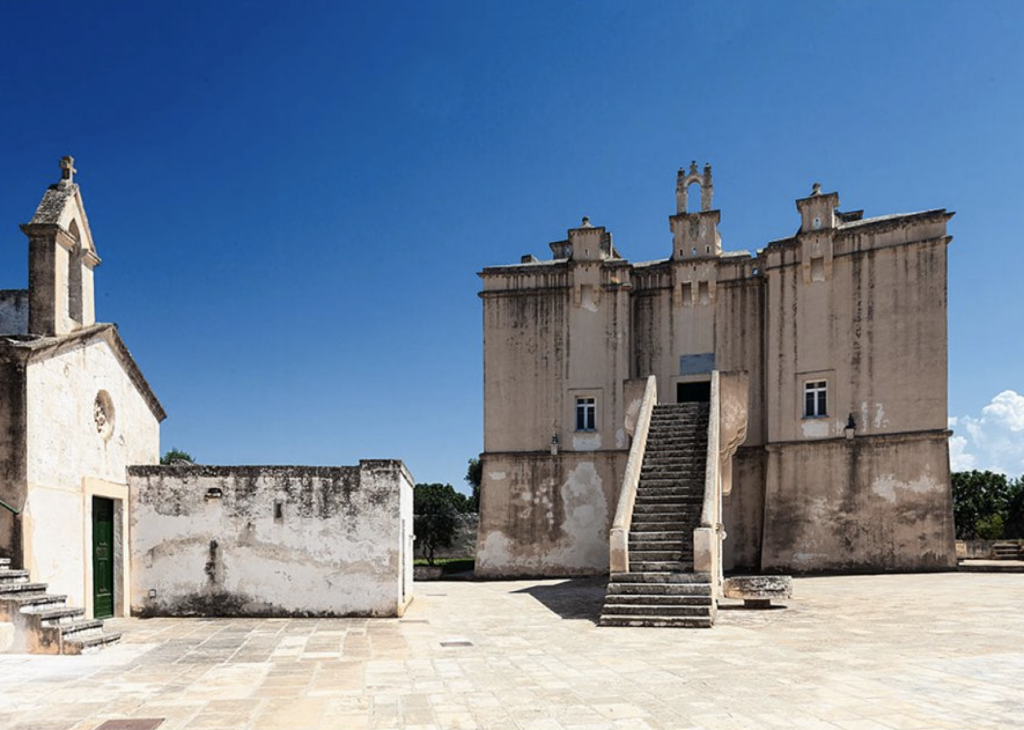 Pettolecchia La Fortezza
The 15th-century estate is the most beautiful and elegantly sun-drenched venue. It was born as an agricultural structure explicitly made for the production of olive oil. This ancient fortress played host to many generations; different populations have dominated it: Romans, Byzantine, Lombardic, Saracen.
The ancient towers stand proud, surrounded by lush fields and golden grounds. It has been restored to its glory, flaunting elegant architecture and historical beauty. This is the perfect place to get married if you want to go for a glamorously rustic venue providing you with all the high amenities you can ever wish for.
Real Feeling –THE MAGIC OF APULIAN WEDDING
We have searched the faraway fields and ancient chapels all around Italy, and Puglia is the treasure of southern Italy. We have been to every one of these locations, and experiencing the magic unveiled right in front of our eyes has been purely magical. Seeing couples enjoying their dream of having a romantic Italian wedding is our ultimate goal.
Being the infamous wedding destination, the beautiful sea of Puglia radiates its charm and fills the air with the warmth of love. As soon as you step into the Apulian Sea fairytale atmosphere, you will be able to tell that this is the right place for you. 
Best time to get married in Puglia
Puglia is a beautiful region surrounded by beaches, castles, and luxurious villas. However, season and weather play a significant role when it comes to deciding on a wedding venue in Puglia.
The weather in Italy varies for different regions, and Puglia is most magical during the summers. Here is a brief guide to understanding the Apulian weather so you can plan your Italian wedding without hiccups.
March-October
The destination wedding season in Italy usually lasts from April to October. Plenty of couples make their way to Puglia and make their dream wedding come true during this season since it is relatively warmer, the sky is clear, and the air fresher. May till September is considered the peak season to get married in Puglia. However, you can also consider March; the early summer arrival can make your wedding perfect and enchanting. But if you choose March, you should keep in mind that the countryside has yet to have time to flourish after the winters.
The end of March is much warmer, with the temperature approaching 20 degrees centigrade. April is springtime with plenty of greenery and vegetation around. May brings an increase in temperature, the countryside is much warmer with a temperature of 25 degrees centigrade. June brings the end of spring, and the country soon turns hues of golden. July is one of the hottest months; expect a temperature of 30 degrees centigrade. August is similar to July with sunflowers shining bright and sun-drenched fields meeting the calm ocean. September and October are the most popular months to get married in Puglia as the air is fresher and the temperature drops to almost 27 degrees centigrade.
Wedding vendors in Puglia we love the most.
Our absolute insider tips?
If you are planning a wedding in Puglia, let us make it easier for you. Here are some frequently asked questions about planning a wedding in Puglia.
When is summer in Puglia?
The summer is usually between August and July. This is when the temperature gets highest at about 30 degrees centigrade.
Is it easy to get married in Puglia?
It is easy to catch a flight and book your dream wedding destination. You will land directly in Bari and will be free to explore the beautiful towns
Can foreigners get married in Puglia?
Unlike many countries, you don't have to be a resident to get married in Puglia. So yes, foreigners can get married in Puglia.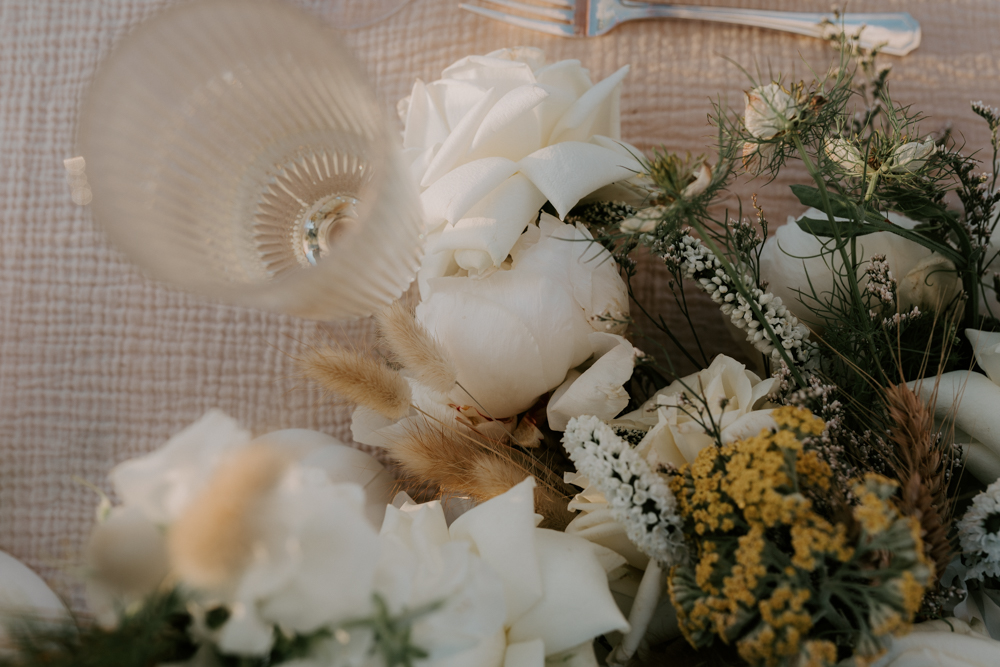 10 Reasons to get married in Puglia
Sitting in the southeast of Italy, Puglia offers picturesque seaside towns, hectares of olive groves, and enchanting castles. Here are ten reasons why you should get married in Puglia
Its magical wedding venues
One of the biggest reasons you should consider getting married in Puglia is its remarkable and historic venues. You will find plenty of hidden treasures in Puglia: archeological sites, medieval fortresses, and stunning beaches.
Amazing food and wine
In Puglia, you will get to taste the most delicious wine and experience authentic Italian cuisine. Puglia is known for its fresh wheat pasta, wineries, and olive groves producing olive oil. The culinary experience that you will get in Puglia can match no other place
Warm weather
Puglia is situated in southeast Italy, with perfect weather for most of the year. The weather is usually warm, with the hottest temperature of 30 degrees centigrade. March and June are the hottest months, but the weather is pleasantly fresher as you move to September and October
Easily reachable
Puglia is relatively easy to reach. You can quickly get comfortable flights from most European countries directly to Bari.
Innovation and style
Italy is not only famous for its food, but style is another thing that Italian tradition takes pride in. Due to years of experience in delicate craftsmanship and a supply of exquisite fabric, you will find the best couture wedding dresses in Puglia.
Active life
The locals in Puglia have a very active lifestyle, and tourists create focus on vigorous activities. You can go on beautiful walks and cycle around the serene landscapes.
Beaches
How can we forget the beauty of Apulian beaches? It is the perfect place to witness the most gorgeous sunsets ever.
Southern hospitality
Another great thing about the Puglia region is that the locals are incredibly hospitable. The Italian culture is all about the beauty of celebrating. This is why it is the perfect place to get married and celebrate your love.
Ease of planning
It is a common misconception that planning a wedding in Italy is very difficult. But with the help of the right people and vendors, you can make your dream wedding happen. Puglia is no short of choices, and you can plan a wedding exactly how you want it.
Plenty of things to do
From clubhouses and picturesque tows to lush gardens and authentic Italian culinary delights, there are plenty of things for you and your guests to enjoy during your stay at the beautiful location.
Are you planning your wedding in Puglia?
It is time to make your dreams come true. Puglia is a fairytale place with 17th-century castles, fortified villas, and ancient chapels. It is bestowed with acres of green gardens, golden fields stretching along the eight kilometers of the Apulian coastline, hectares of grape yards, and olive gardens.
Visiting all these places has been a fantastic experience for us, and we want to make sure that you get to experience and capture the most stunning backdrop for your wedding day.