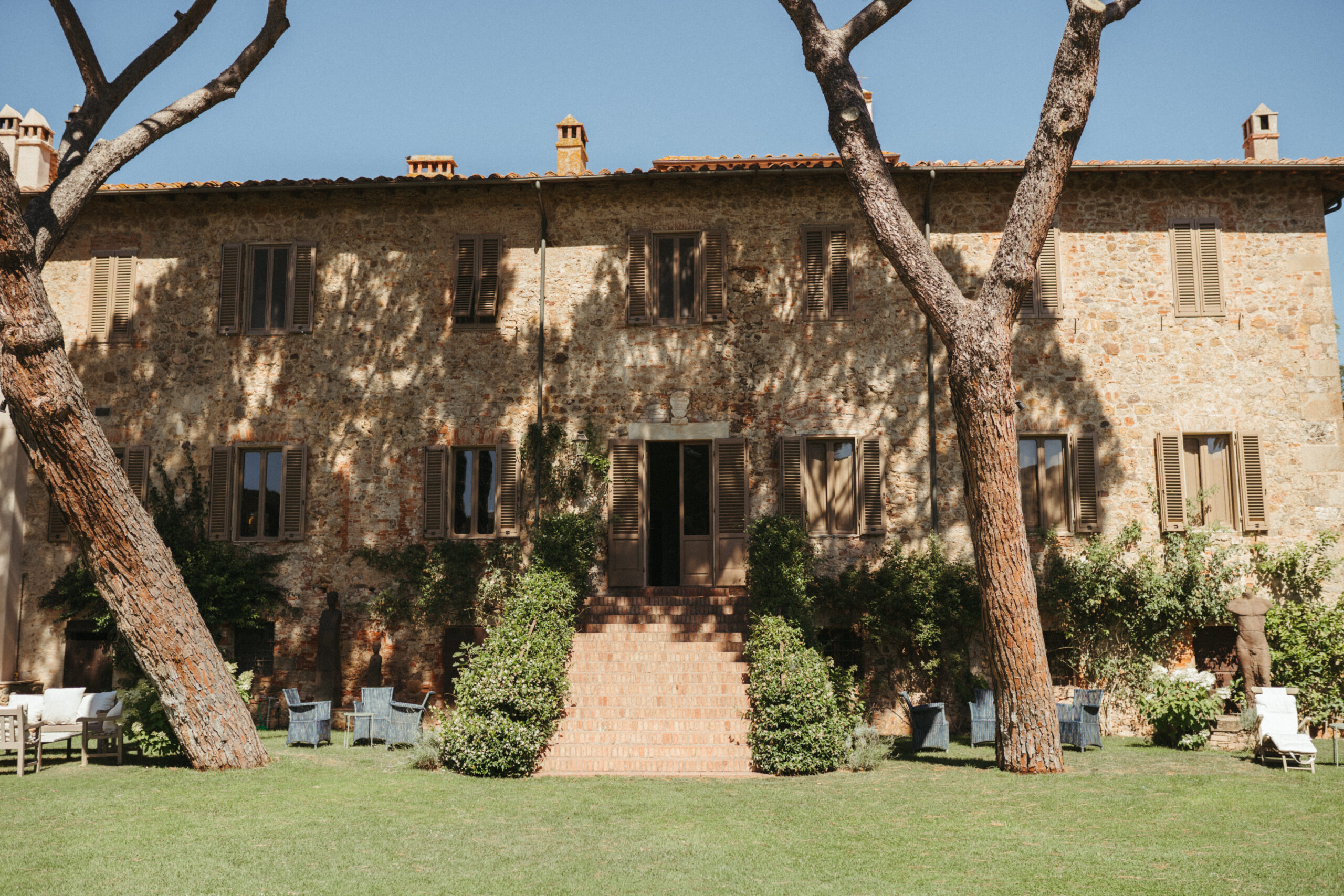 There are many reasons to get married in Tuscany. The silvery olive groves, the fields of sunflowers, the vineyards, the stone houses and barns. Discover important recommendations & infos for your wedding in beautiful Tuscany.
Table of Contents
Wedding Venues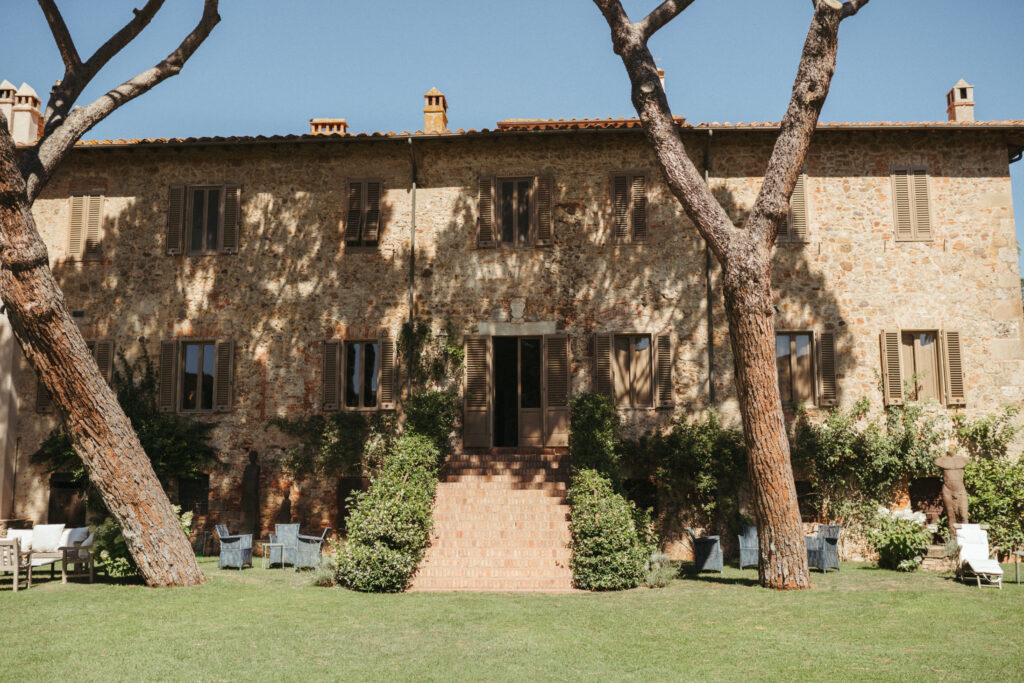 La Pescaia
Located in the Maremma region, La Pescaia is the perfect place for those looking for an authentic Italian wedding venue. A relaxed place that can accommodate up to 34 guests and grows wonderful flowers from the region itself.
Villa Lena
Between Pisa & Florence lies this wonderful place that will make your wedding a unique experience. Why not book your guests a workshop to learn how to make fresh pasta and let yourselves be enchanted.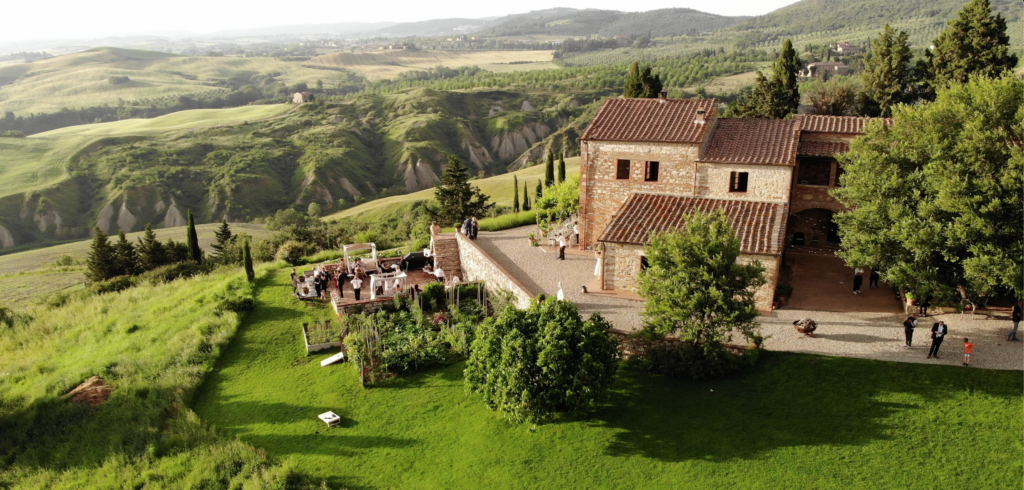 Lazy Olive
Lazy Olive is a very special country villa in Tuscany, just 30 minutes from Siena. It is one of the most romantic places in Tuscany with stunning views of the surrounding vineyards & olive groves.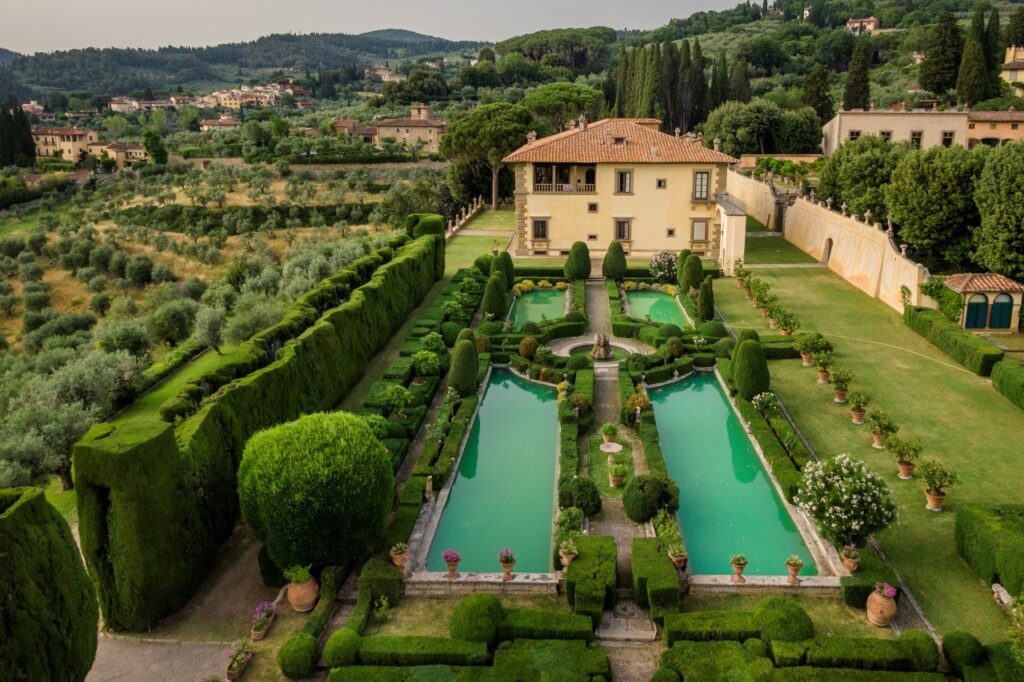 Villa Gamberaia
Are you looking for something luxurious? Then Villa Gamberaia is the place for you! An exclusive location with a view of Florence & majestic gardens. Your guests will be blown away.
Best time to get married in Tuscany
THE BEST NEWS FIRST: THERE IS ACTUALLY NO BAD TIME TO GET MARRIED IN TUSCANY. EVERY SEASON HAS ITS ADVANTAGES.
Spring
Spring, like everywhere else in the world, is the time of year when flowers bloom and lush green fields can be found. The rather mild temperatures make it ideal for those who want to escape the summer heat. Another advantage: locations are up to 30% cheaper during this time than in high season!
Summer
The absolute most popular time for weddings in Tuscany are the summer months. Long and warm evenings, hot temperatures often above 30 degrees and little to no rain make summer so desirable for weddings, as most weddings in Tuscany take place outdoors. For ultimate holiday vibes!
Autumn
With temperatures similar to those in spring, autumn offers a tempting alternative to celebrate the wedding of your dreams in Tuscany. The colourful vineyards are gorgeous and it is even still warm enough to swim in the sea. Don't underestimate autumn in all its wonderful colours!
Winter
Winter is perfect for anyone doing a bit of activities right after their wedding. It's temperatures makes it ideal for adventures in the snow. So why not eloping and go on a ski session straight afterwards?
Wedding Vendors of Tuscany we love most
Flowers: Luca Cozza
Makeup: Yana Rybalko
Makeuo: Karina Makeup 
Wedding Planner: Alessandra Linoci Events
Musicians: Omero & friends
Sweets: Dolci Tradizioni Toscane
Wedding Planner: Wiskow and White
Absolute insider tips
What do we need for our Tuscany wedding?
It is actually quite simple: besides a valid passport, you'll also need a translator if you can't speak Italian. Furthermore you will need a birth certificate on an international form and a certificate of marriageability.
How much does a wedding in Tuscany cost?
As individual as your wedding is, so special are the costs for your Tuscany wedding. It is therefore not possible to name s specific amount. Rather, your wishes, ideas, the locations and the size of your wedding party determine the amount. Most weddings in Tuscany range from €25,000 to €60,000.-
Should I book locally or fly in?
An important tip: take a close look at the work of the service provides on site. Often they do not correspond to your taste or have a distinct Italian touch, which is not to everyone's liking. The photo and video team in particular is often flown in. Just ask your favorite service providers! We, for example, travel everywhere and LOVE to capture non traditional weddings abroad.