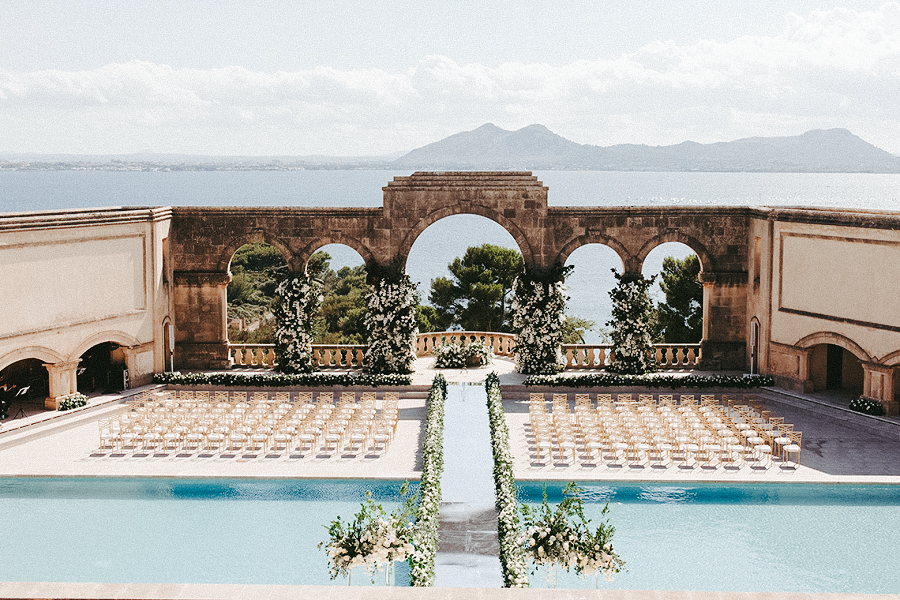 Are you still dreaming or already planning?
Breathtaking natural beauty, endless coastlines and a Mediterranean climate make Mallorca the ideal place to tie the knot. If you want to say 'I do' amongst lush pine and olive trees overlooking the Balearic Sea, then our guide is just what you need for your wedding in Mallorca.
Table of Contents
FAQ
Can you get married on Mallorca if you're not from Spain?
The answer is yes! In fact, Mallorca is a popular destination for couples from all over the world who want to tie the knot. Whether you want a free wedding or a church wedding, you can make your dreams come true in Mallorca.
Why should I get married on Mallorca?
There are many good reasons why Mallorca is a great choice for your destination wedding. The island offers a wonderful climate all year round and stunning scenery that is ideal for your wedding photos.
Can I book a wedding planner?
Don't want to organize everything yourself? There are a number of experienced wedding planners on the island who can help you arrange everything from flowers to catering. You are welcome to contact us for a recommendation.
Looking for that special something?
As you can see in our guide, Mallorca has a number of hotels and venues that are simply stunning. No matter what kind of wedding you're planning, there's something for everyone.So if you're hunting down a magical place for your wedding, Mallorca is definitely worth considering.
What do you need to get married on Mallorca?
Getting married in Mallorca is a truly magical experience. If you want to tie the knot in Mallorca, there are a few things you need to do first. However, there is one requirement that you must not forget. And that is, to apply for a marriage license from the local town hall. Once you have this, you can start planning your big day.
Our top 9 Wedding Venues on Mallorca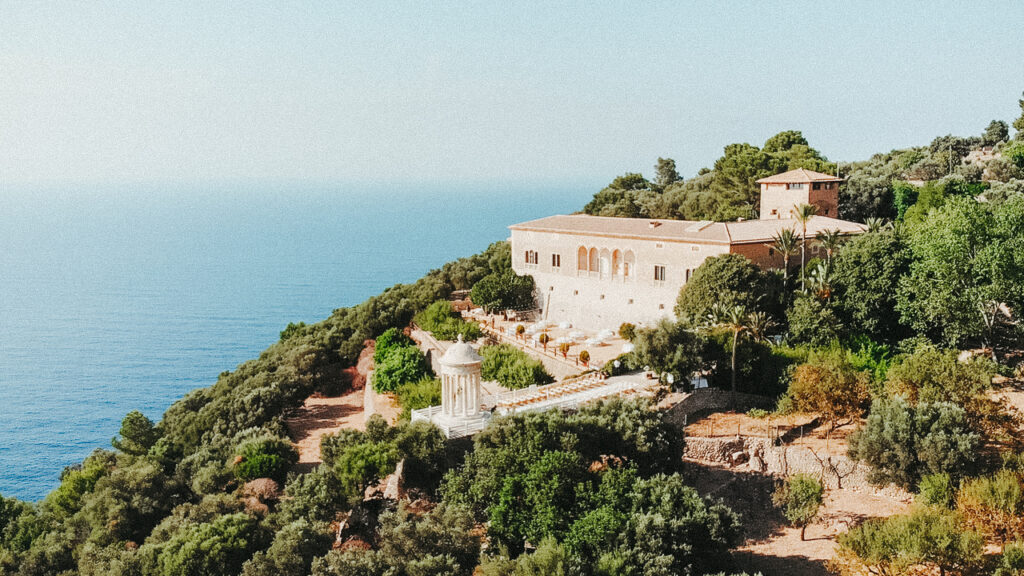 Son Marroig
In the northwest of Mallorca, you will find the former Son Marroig estate. This beautiful property is situated on a cliff overlooking the deep blue Mediterranean Sea. The villa and a unique marble temple, perched above the sea, offer breathtaking views of the endless blue. Where Empress Sissi once visited, you can now give each other your wedding vows. You don't have to do without food and drinks here, either: The romantic terrace of the manor house offers space for up to 140 guests.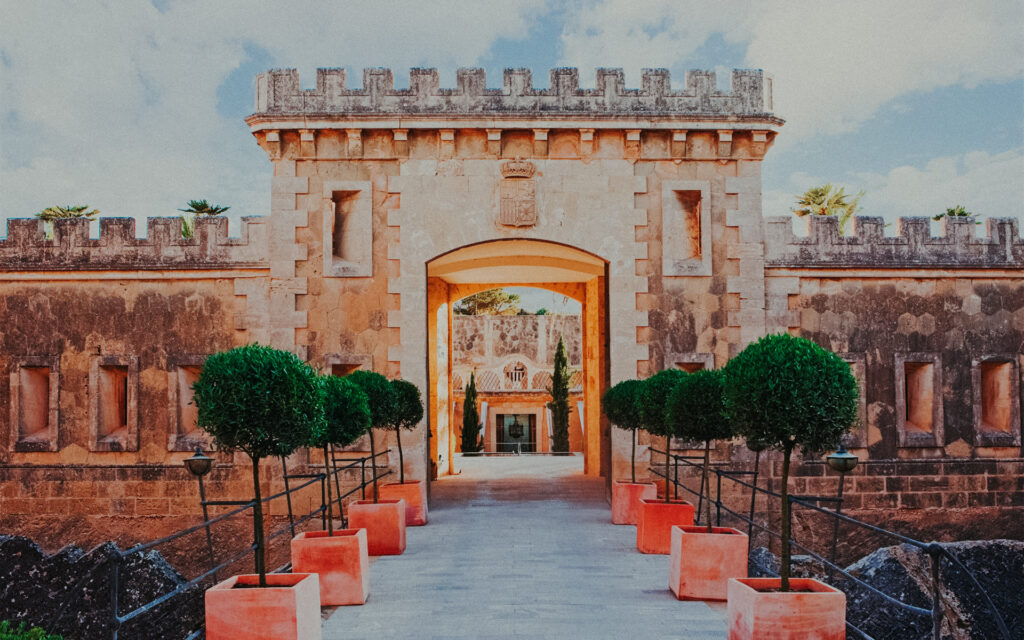 Cap Rocat
Are you looking for something special? Then this former military fortress might be just the thing. The now 5-star boutique hotel is located in a secluded bay and surrounded by steep and rocky cliffs. You can reach Hotel Cap Rocat from Palma in only about 15 minutes. On warm summer nights, the panoramic terrace, with spectacular views of Palma, offers a cool breeze during your wedding ceremony. But your dream of a wedding on the beach doesn't have to remain a dream at Hotel Cap Rocat either. No less sensational are all the other amenities the location offers. After a night of dancing, laughing, and fun, you and your guests can make yourselves comfortable in the romantic suites. The in-house spa, a private beach, tennis courts, and a wide range of fitness facilities ensure your mental and physical well-being.
Son Togores
A wedding at finca Son Togores is unforgettable. The finca is located about 20 km from Palma and is surrounded by breathtaking nature. The forest and the mountains surrounding the finca offer you and your wedding party a fascinating view. Let your imagination run wild. The destination offers you a wide range of different locations for your wedding celebration. Would you like to get married among centuries-old olive trees? Or would you prefer to say "I do" on the terrace with a view of the endless greenery? The rest of your ceremony will be no less spectacular at finca Son Togores: the stately rooms are perfect for the reception, and the large landscaped terraces are ideal for your cocktail hour or wedding dinner.
Esglesia Nova
Wedding ceremonies in the Esglesia Nova are certainly something special. The Neo-Gothic cathedral was designed by a student of Gaudi's architect and is popular with locals and tourists alike. Although unfinished and roofless, the church is beautiful and exudes a unique romanticism. Its unique atmosphere is perfect for hosting weddings in all their glory. The light-filled interior is a wedding photographer's dream, and the stunning mallorquin backdrop makes the Esglesia Nova a truly unforgettable place to get married.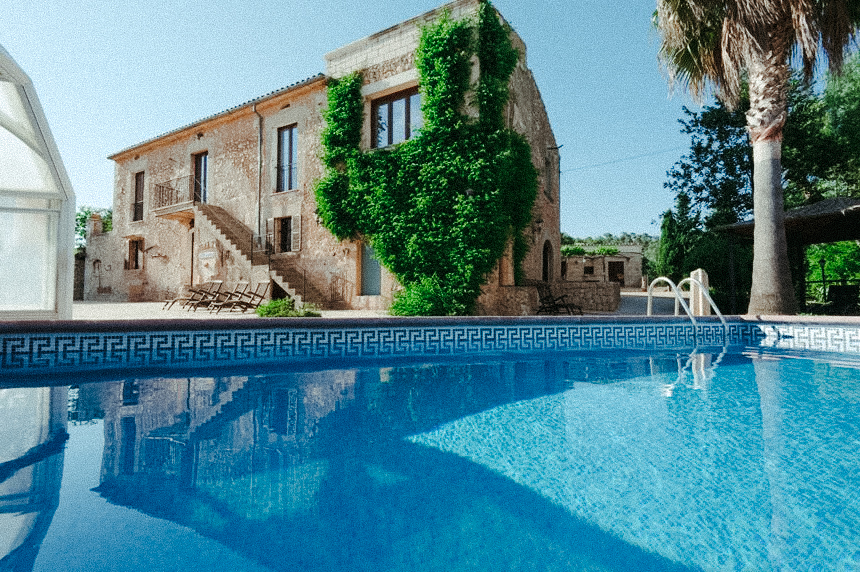 Finca Son Sama
Rustic charm meets comfortable modernity. Finca Son Sama is located about 25 minutes southwest of the capital Palma. The property offers traditionally furnished mallorquin rooms, a pool, and a large estate in the middle of nature. Nestled in the rolling hills of Mallorca, this historic finca invites you to enjoy the breathtaking views from the event terrace. The lush gardens and woods as well as the pool invite you to relax. Son Sama offers you many possibilities to realize your special day and create it the way you have always dreamed of.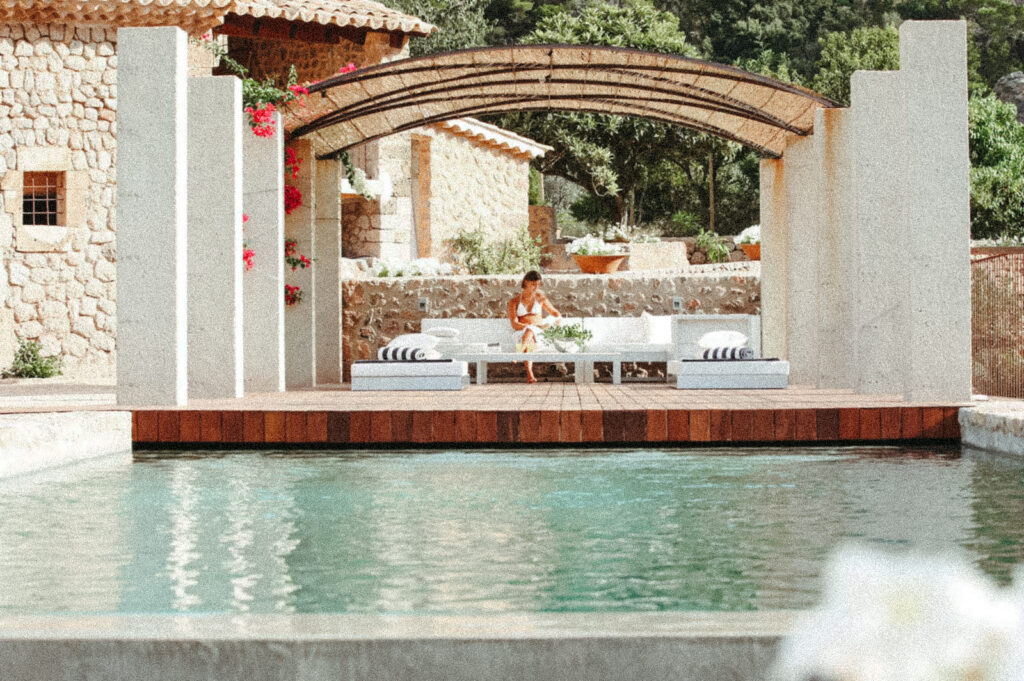 Villa Bahia Soller
A wedding at Villa Bahia Soller is a truly unique experience. The luxurious villa is located in the heart of Mallorca's Tramuntana mountains and offers stunning views of the nearby sea. The villa has been lovingly restored to retain its weathered charm. The grounds also feature an infinity pool, fragrant orange, and olive groves, as well as an old chapel, and an oil and flour mill. All this makes Villa Bahia Soller a magical place for weddings. Here, you can create memories that will last a lifetime.
© sonmir.com
Finca Son Mir
The Son Mir estate is a typical mallorquin finca about 15 minutes from Palma. The 17th century manor house is surrounded by olive trees and vineyards. The finca has been carefully restored, preserving the original architectural elements. It has charming interiors suitable for both small and large wedding parties. But also extensive gardens and a romantic mill are ready for your Mallorcan dream wedding.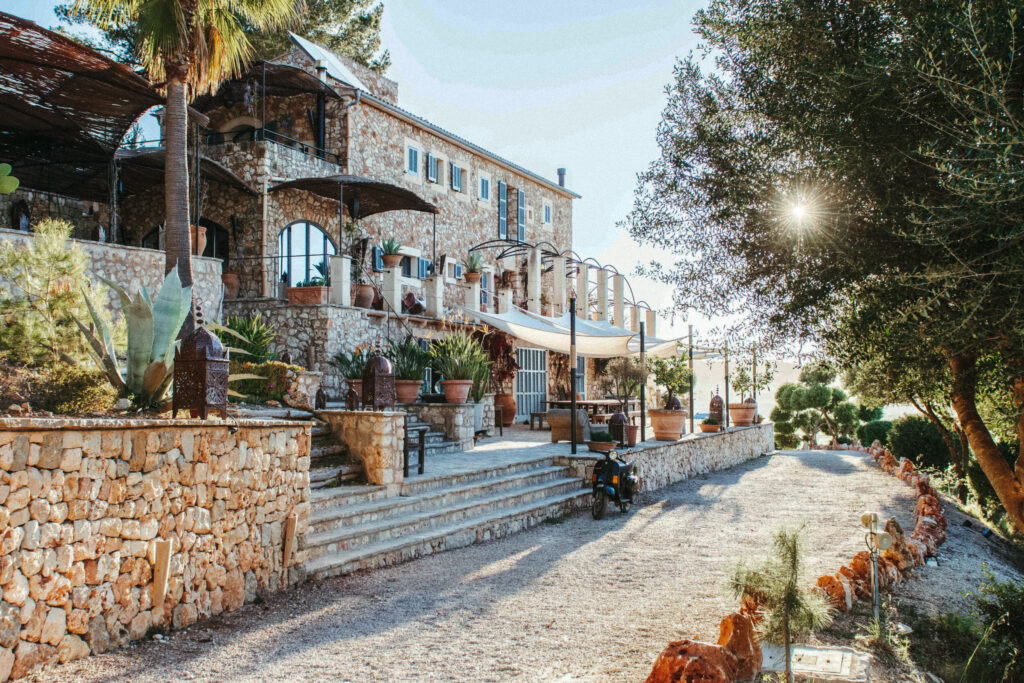 Finca Osa Major
Perfect for your boho wedding. This rural finca, about 40 minutes west of Palma, sits on a slight hill and offers stunning views of the valley below. Whether you're looking for an intimate ceremony or a grandiose celebration, Villa Osa Majorleaves nothing to be desired. Your big day will be unforgettable. A stunning outdoor pool, a spacious terrace and a large garden invite you to stroll and enjoy the grounds on your special day.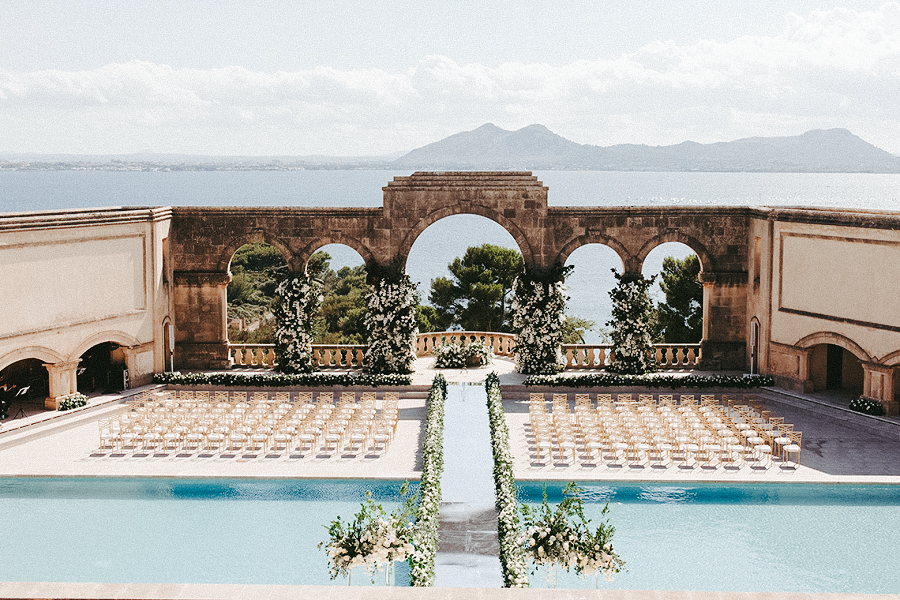 La Fortaleza
Where pirates were once fended off, you can now say your wedding vows in a breathtakingly restored fortress. La Fortaleza was built in the 17th century and towers over the coast in the north of Mallorca. The fortress reflects the romantic qualities of the Spanish lifestyle and makes dreams come true. You can hold an intimate ceremony or a grand celebration amidst the splendor. The estate is huge and can accommodate weddings of all sizes. On the 232 hectares of land, you are surrounded by pine trees and have a breathtaking view of the Balearic Sea. And that from almost all sides. All this makes La Fortaleza a unique location for your wedding in Mallorca.
Wedding Vendors on Mallorca we love most:
Wedding Planner: Lovebirds Mallorca 
Wedding Planner: Fab Events Lab
Flowers: Francis Deco
Hair and Makeup: Rebecca Spendlove
Music: Mallorca Inear
Cake & Sweets: Tanja Bakeryland
Wedding photographers Mallorca: Memories that last a lifetime
Whether for an intimate wedding for two on the beach, or a celebration in a mallorquin finca, Mallorca is a stunning place to get married. The beautiful landscapes and perfect Mediterranean climate make it a magical wedding location. We hope that our guide has helped you and that you allow us to accompany your special day as wedding photographers.
Our passion is to capture all the special moments of your union. We know that your wedding day is one of the most important days of your lives. Our strength is capturing the perfect moments and turning them into beautiful memories for you. So, you can remember this day for the rest of your lives.
Contact us today for a free quote for your wedding pictures on Mallorca!