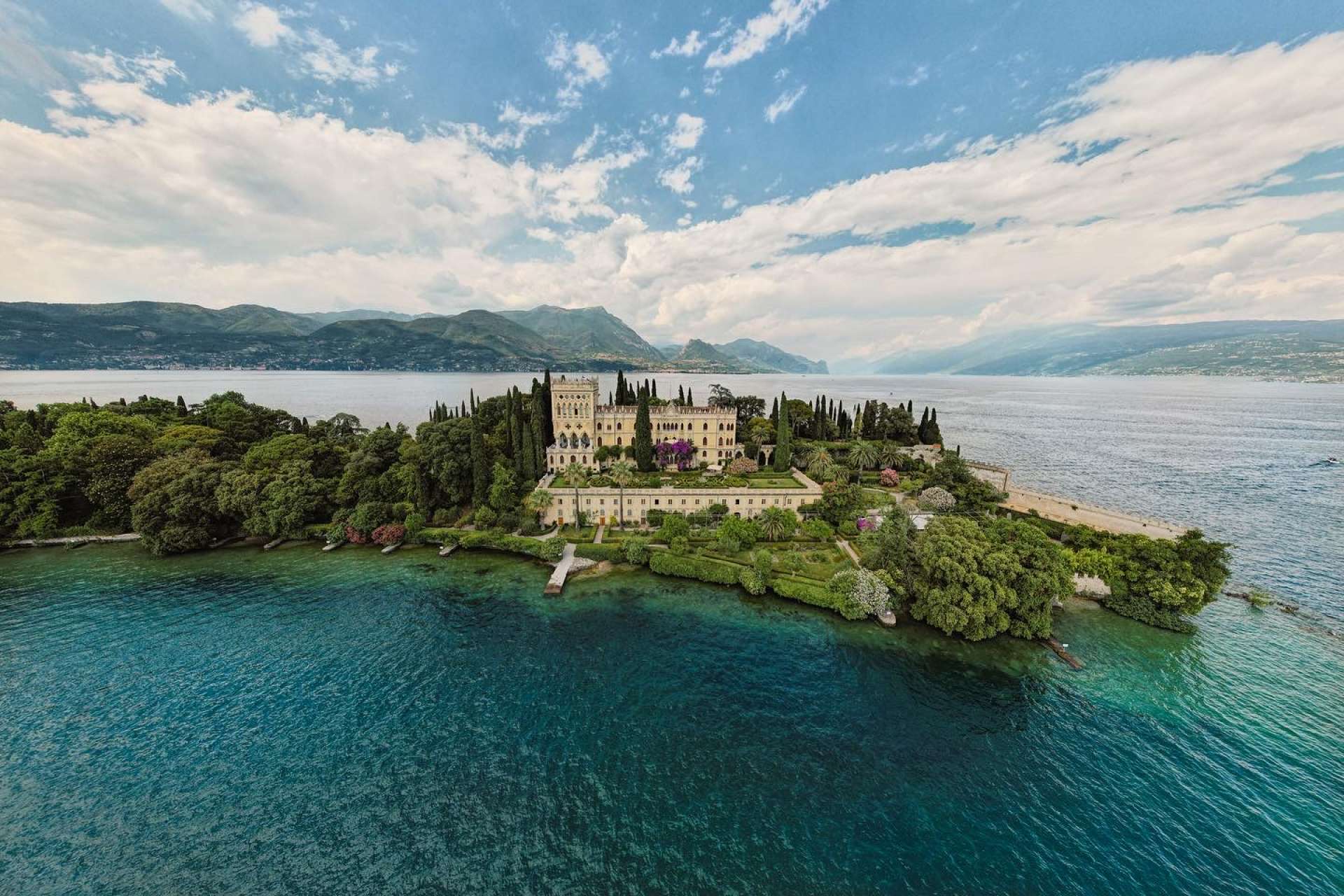 Are you still dreaming or already planning?
We have put together a guide for your wedding at Lake Garda to ensure nothing goes wrong, and nothing is forgotten, leaving you to spend the most beautiful day stress-free.
You dream of celebrating an unforgettable wedding at Lake Garda. You want to celebrate this special moment surrounded by breathtaking nature, mountains and crystal clear water. In addition to your guests, you want the Mediterranean climate, the delicious Italian cuisine, and the local wines to accompany your wedding ceremony.
The Italian Dolce Vita's romantic vibe is unique, making Lake Garda an actual dream location.
However, organizing a wedding is not an easy thing to do. Especially abroad. We have put together a guide for your wedding at Lake Garda to ensure nothing goes wrong, and nothing is forgotten, leaving you to spend the most beautiful day stress-free.
Table of content
FAQ
Can foreigners get married in Italy?
You can breathe a sigh of relief because the answer is yes. Anyone can tie the knot in Italy.There are only a few small things you need to consider. But with a little organization, you will be ready in no time for your big day.
Which documents are required?
Before you can say 'I do' amidst vines and the songs of cicadas, you need to get a few basic official things out of the way. This includes gathering your wedding documents.
For your wedding in Italy, you will need:
A valid passport for both parties
An international birth certificate (original) or a certified copy for both parties
If you have been married in the past, you will need divorce papers. Women divorcedin the past 300 days may need a waiver from the Italian District Attorney's Office.
The "Dichiarazione Giurata" document, which is filed with the appropriategovernment official in your home country before your wedding. It states that there's no legal impediment to your marriage in your home country.
A document that states your intent to marry. This document will go to the civil registrar.
Further documentation might be needed if you intend to have a Catholic wedding. Please make sure to discuss these details with the church at which you plan to get married.
Can you get married in a civil ceremony on Lake Garda?
Whether in a civil ceremony or a church—the decision is entirely up to you. Both types of marriage are offered in Italy.
Can two people tie the knot in Italy with no guests or witnesses?
If you are planning a romantic wedding for two, you need to be aware of the following in Italy: For marriage in Italy, 2 witnesses are mandatory!
How much does a wedding on Lake Garda cost?
Do you want to get married on a budget, or prefer something more extravagant? Are you planning to hire a wedding planner, or will you take over the entire organization? The answer to the question of costs depends entirely on your ideas and wishes for your special day.
Where can I get a wedding cake at Lake Garda?
If you have agreed on a full-service package with the wedding venue, wedding cakes are often already included. Be sure to check the scope of the package you have booked in advance. If you're taking care of the wedding cake yourself, don't worry: there are plenty of small, charming cake shops around Lake Garda. Le Ali del Frassino, for example, offers enchanting wedding cakes in Peschiera del Garda.
Our Top 9 Wedding Venues on Lake Garda, Italy
Castle Malcesine
How does getting married in a centuries-old castle with a view of crystal-clear water and the Monte Baldo mountain range in the background sound? This dream can become a reality in the castle of Malcesine. Tie the knot above the romantic and medieval old town.
Where the Scaliger family, the Viscontis, and even Goethe once resided, the wonderful Rivellino terrace welcomes you with a magnificent view of Lake Garda, while the Casermetta room offers space for a wedding party of 40-50 people.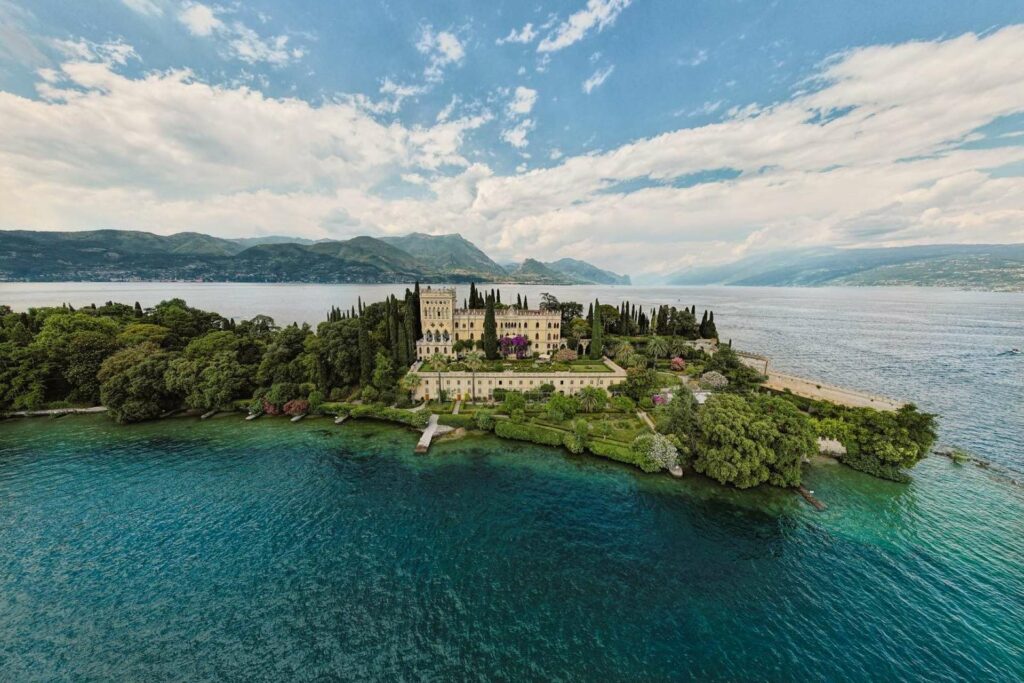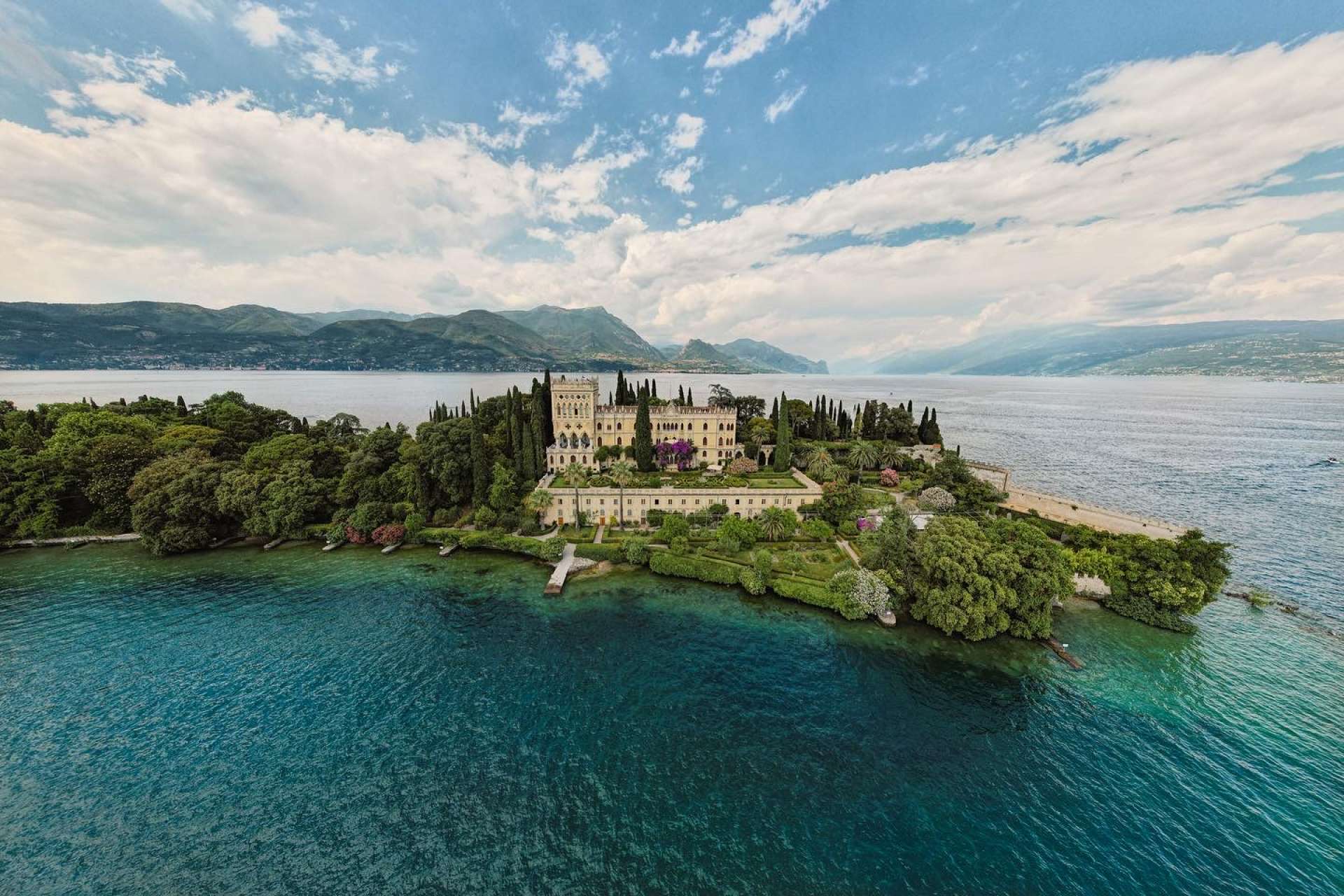 Isola del Garda
Getting married on Isola del Garda combines beautiful nature with an impressive history and guarantees unforgettable moments for the soul and eternity. The island is located near the south-western coast of Lake Garda. Here, you can get married amidst breathtaking scenery, exotic flora, and a royal villa that leaves nothing to be desired. Up to 150 guests can be seated among hanging gardens and green cypresses to enjoy a memorable evening celebrating your love.
Villa Cortine Palace
Villa Cortine Palace is located in Sirmione, the southern part of Lake Garda. Here, you can get married in the middle of a dreamlike 5-hectare park that will envelop you and your guests in the park's fragrant scents and the day's unforgettable moments. Would you like to get married among graceful conifers, palm trees, and enchanting waterways, or would you prefer to tie the knot directly on the shores of the crystal blue lake? Whatever you choose, getting married here will create unforgettable memories that you and your partner will cherish forever.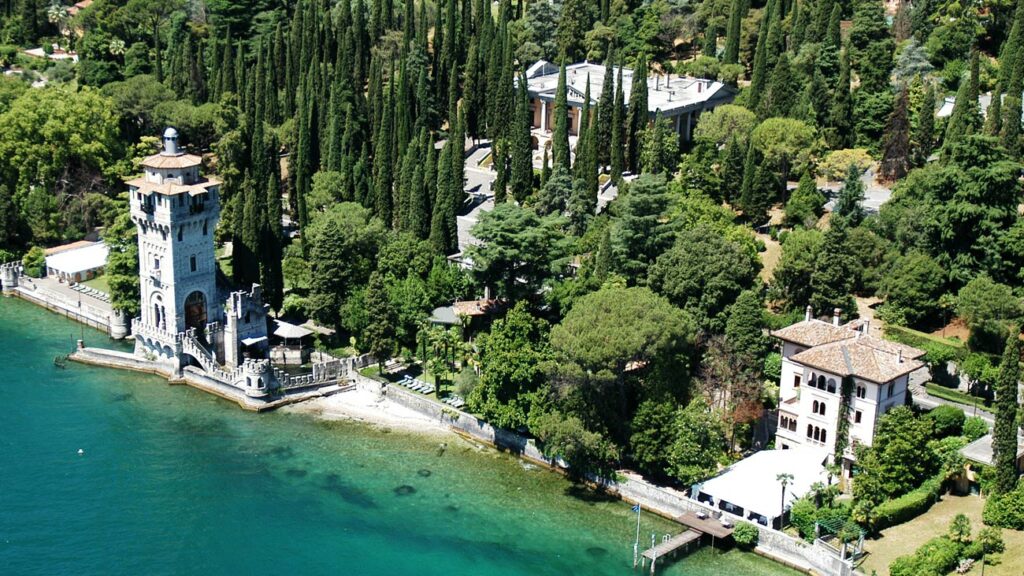 Torre San Marco
Not far from the dreamy villages of Gardone Riviera and Salé, the Torre San Marco tower, once Mussolini's love nest, overlooks the southwestern part of Lake Garda. The Tower will spoil you and your wedding guests with culinary delights. You will be accompanied by a unique view of the surrounding blue waters at dinner and during the wedding ceremony.
Villa Arcadio
The former 14th-century monastery is now an exclusive 4-star resort overlooking the southwestern part of Lake Garda. In addition to a beautiful view of Lake Garda, you and your guests can celebrate your love here, surrounded by forests and olive groves. Elegant rooms, suites, and a large panoramic terrace with a pool invite you and your guests to relax after the wedding ceremony.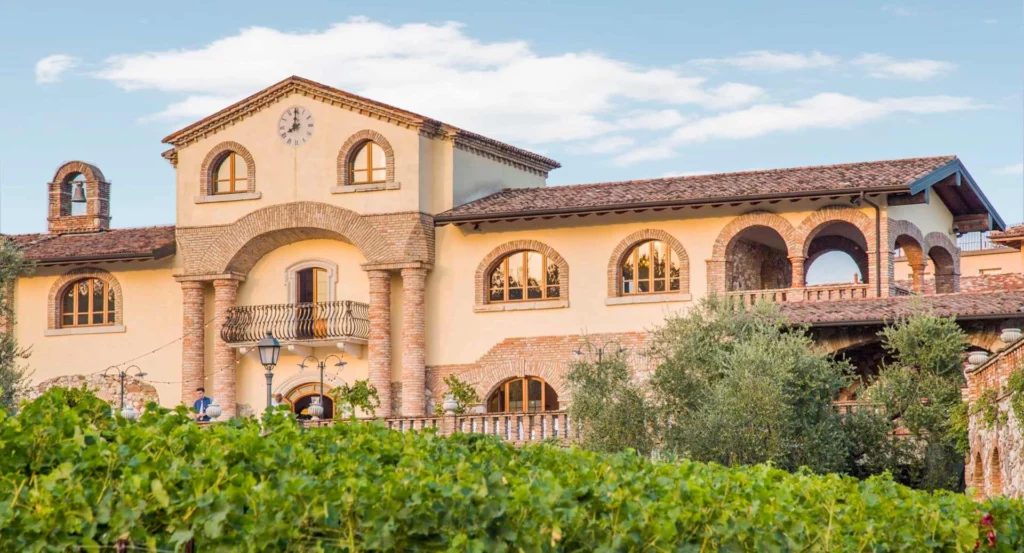 Pratello
With gentle, picturesque vineyards as far as the eye can see, the Pratello winery offers a unique view over the Morainic hills, south of Lake Garda. The 85 hectares of rolling hills offer you and your guests a sense of security and a pleasant climate year round. The location combines classic Italian architecture with modern facets to create an unforgettable hospitality experience. Enjoy the locally grown wine, and the freshly harvested vegetables from the resort's own vegetable garden. Start your life as a couple, refreshed at the Pratello Wine Resort.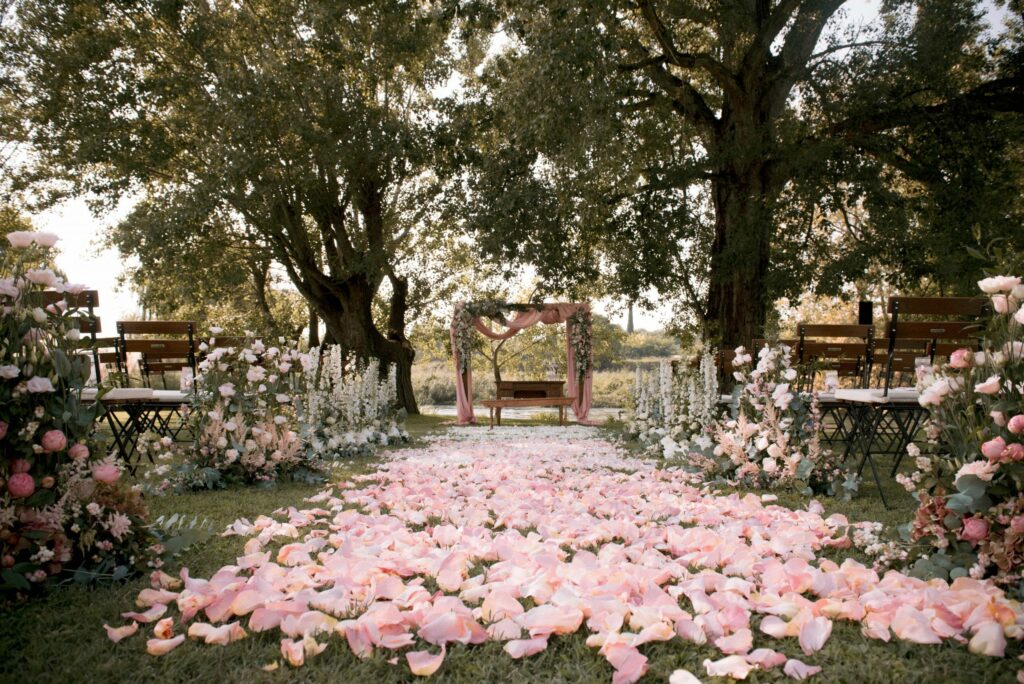 La Finestra Sul Fiume 
Directly on the banks of the Valeggio sul Mincio river lies the 600-year-old Finestra Sul Fiume manor house. This wedding location is truly unique. Located between Peschiera del Garda and Verona, not far from the lakes of Mantua, the magic of green gardens and vineyards will accompany you to your new stage of life. The Finestra Sul Fiume location combines charming nature and rustic luxury on over 6000 square metres of Venetian land. After a glittering party on the banks of the Valeggio Sul Mincio river, comfortable and elegant rooms offer you the opportunity for relaxation and regeneration.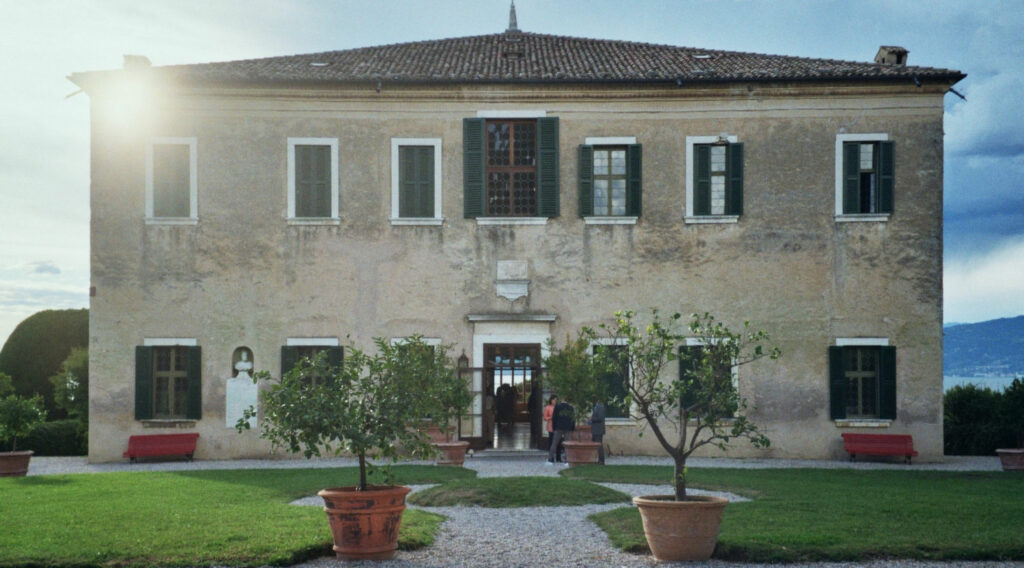 San Vigilio
San Vigilio, southeast of Lake Garda, is the ideal place for an intimate wedding ceremony. Owing to the long-recognized beauty of the region, San Vigilio has a long history of prominent guests, including statesmen such as Napoleon, Winston Churchill, Prince Charles, and Tsar Alexander II. The estate's charming fishing harbor is located directly on the shore of the lake. Here you and your guests can enjoy a beautiful sunset and the outstanding food served by the hotel's own restaurant.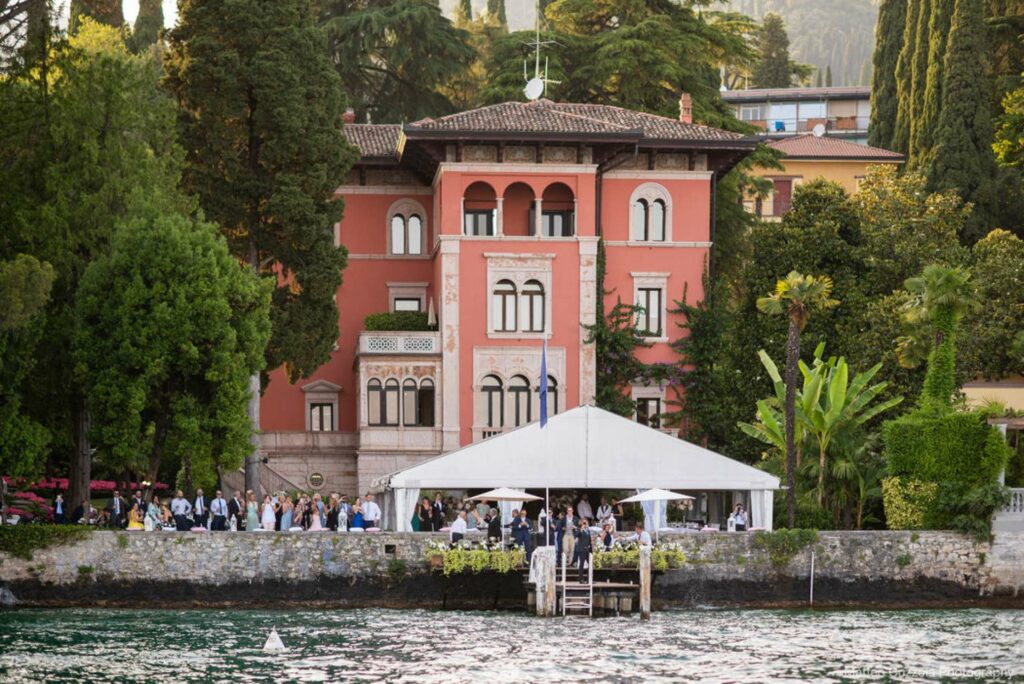 Villa Fiordaliso
Right next to the Torre San Marco and only about 20 minutes from Verona, Romeo and Juliet's hometown, lies Villa Fiordaliso. In the past, the charming estate served as a private residence. Today, you can get married and start your life together here. The small boutique hotel is located directly on the shore of Lake Garda so that you can overlook the western shore of Lake Garda during your wedding ceremony. Surrounded by the sensual scent of nature, the Château is a special place for your wedding vows.
Wedding Vendors at Lake Garda we love most
Wedding Planner: Centoroseuntulipano
Wedding Planner: Ladafiori
Flowers: Lucca Cozza
Make Up: Yana Rybalko
Cakes & Sweets: Pasticceria Caffetteria Artedolce
Musician: Ever So
Capture your special moments on Lake Garda
Lake Garda is a truly magical place for your wedding. As passionate wedding photographers, we will help you to remember your special day forever. To achieve this, we travel all over Europe. Always on the trail of beautiful places for weddings and love. This guide is designed to help you make your special day as magical as you've always dreamed. Please do not hesitate to contact us if you need any clarifications about our availability or any other questions about getting married on Lake Garda.