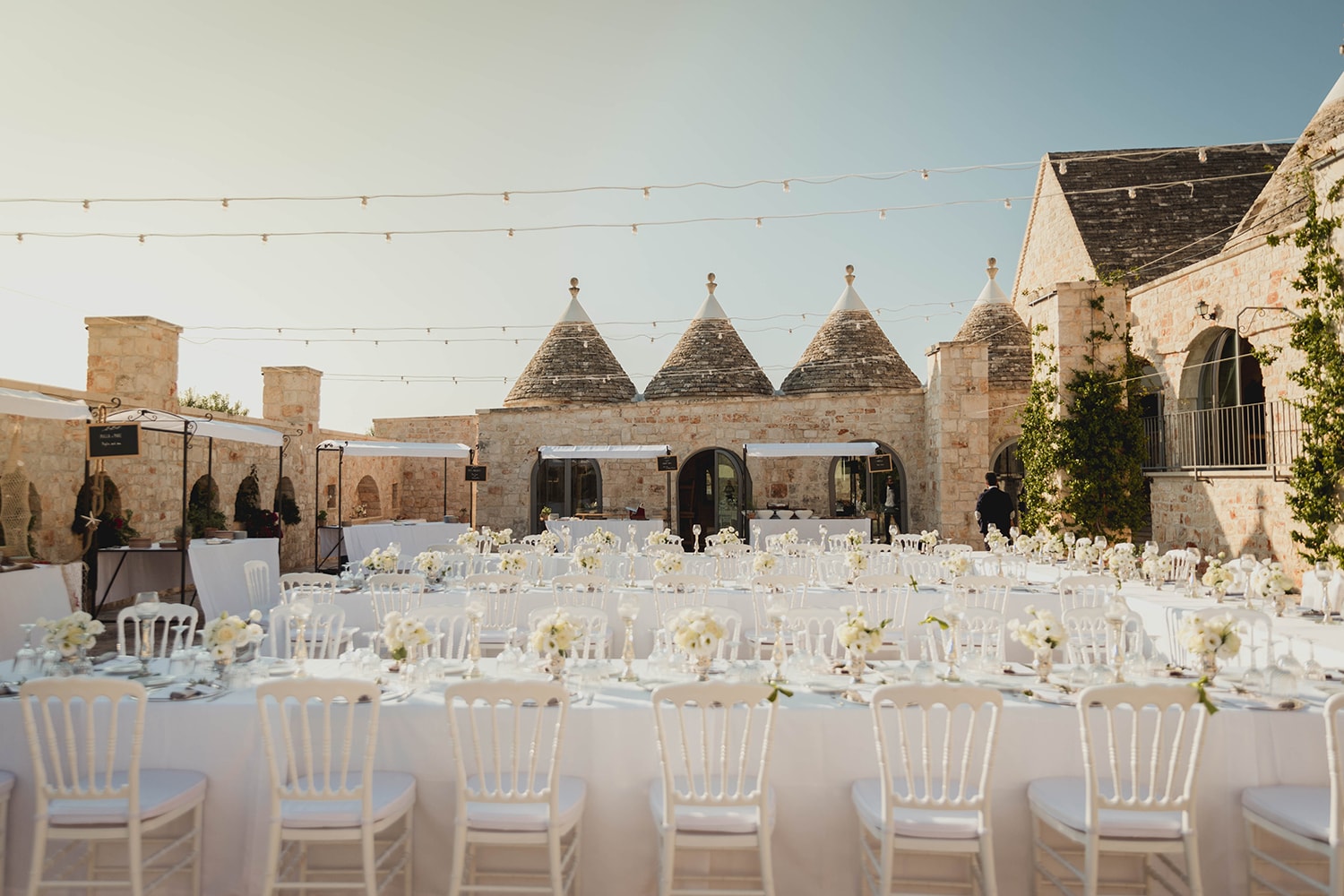 Wishing for your dream of a romantic Puglia wedding to finally come true?Discover Some of the Dreamiest and Most Magical Wedding Venues in Southern Italy
From rustic farmhouses and finely restored ancient castles to exquisitely frescoed villas and centuries-old churches; Italy has everything that you have always envisioned to be a part of your wedding. Be it an intimate wedding or a grand family reception, Italy is no short of breathtaking wedding venues to fit any style and budget.
The historic cities, medieval towns, and splendid farmhouses immersed in the serene beauty of the countryside provide you with a perfect backdrop for your wedding. Italy is the place for you to celebrate your love if you want your big day to seem straight out of a renaissance fairytale.
Because Italy has so many alternatives for every taste, it can get a little confusing for you to narrow down to one from hundreds of perfect wedding venues. This is the reason why we have centered this article on the Puglia region of southern Italy. Here are some of the most dreamiest Puglia wedding venues.
Find your Dream Wedding Spot in Southern Italy
Rich in mesmerizing landscapes, art, and tradition; this is the perfect wedding region to enchant your guests. Sea is the ultimate gem of Puglia since it extends along the clear shores of white sand beaches. The Puglia region is also a place to experience tradition and history in the stone alleys and splendid churches immersed in southern beauty. To add a cherry on top, the Southern Italian cuisines are a perfect mix of simple and delicate tastes which will be an unforgettable wedding treat for your friends and family.
To make it easier for you, we have curated this list of all the different types of Puglia wedding venues
Types of Puglia Wedding Venues
Puglia is known for its exquisite villas embracing flowers sloping down the banks of clear water, ancient churches, and finely restored castles. Here is a list of all the types of Puglia wedding destinations that you can find in the region
Table of contents
Villa Venues
The Puglia wedding villas are a hallmark of southern architectural beauty. Thankfully, there is quite a lot to choose from. Here is a list of all the stunning Villa wedding venues in Puglia.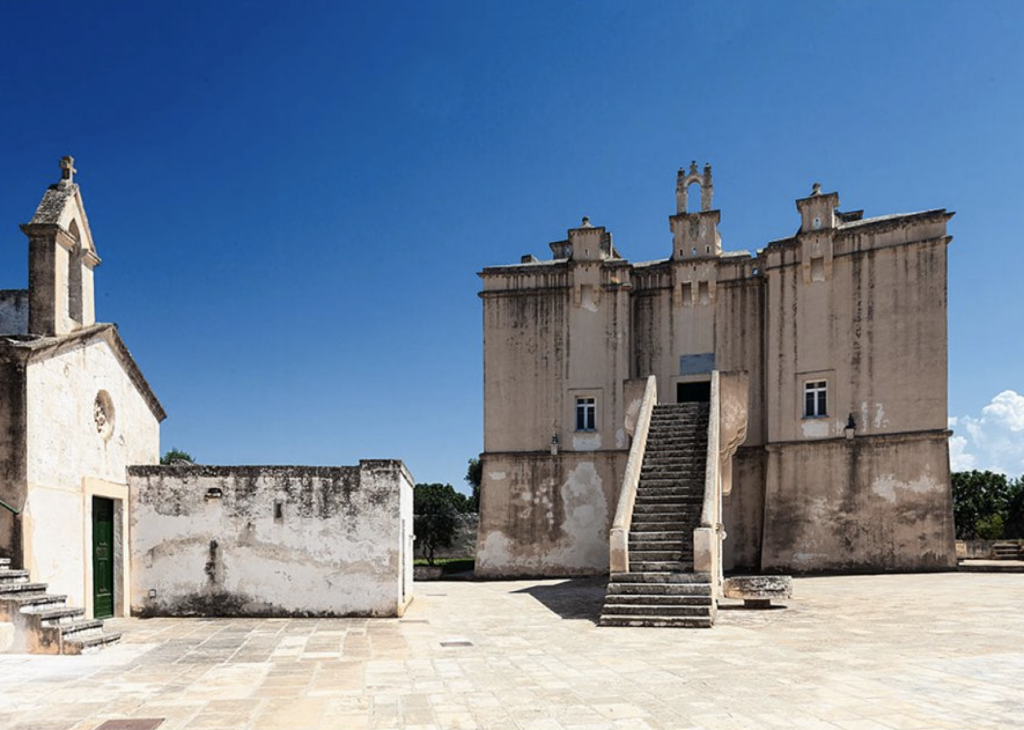 Pettolecchia La Fortezza
This stunning fortress of La Fortezza is different from the rest of the Puglia wedding venues because of its distinct architecture. Its serene beauty and rustic design have enabled it to render visitors with a perfect blend of a countryside farm and a stunning fortress backdrop for your wedding.
The place is rich in history with an ancient charm. Its amazing chapel and lush garden are touched by the beauty of time and history of the whole town. It has hosted many prestigious events making it a place that has it all; history, splendor, and beauty.
Masseria San Giovanni
This breathtaking Puglia wedding destination is located at the very heart of Apulia and nestled among the great extension of ancient olive trees. Masseria San Giovanni has an air of comfort, delicacy, and elegance all combined into an entrancing backdrop for your dream Puglia wedding.
The rooms and banquet both are exclusively designed and fitted to your taste. The reception is held in the square gardens of the venue, with lights and candles illuminating the evening. The day weddings are just as dreamy with whitewashed décor and sunlight enhancing the beauty of this ideal wedding villa.
Masseria Grieco
The lush and extravagant Masseria Grieco Resort is the most memorable location for your wedding reception. With the breathtaking horizons of the Itria Valley setting perfect scenery to your wedding backdrop, this place is where you should get married.
What makes this place so special and worth cherishing is the amazing Apulian architecture that will leave you in awe of this place's details. They will tailor everything from food and wine selection to the rustic décor to fit your style and taste. Its arches and terraces look amazing even from far away. The magic of the stone architecture when met with the glinting infinity pool and lush gardens, creates an absolute fairytale for your special day.
Borgo Egnazia
Since 2010, when it opened gates for the wedding venue and receptions, it has become a luxurious Puglia wedding destination. As soon as you will step into the venue, you will find yourself immersed in the authentic beauty of the small Apulian Village.
You can walk along the stone paths, relax in the square gardens, and admire the historic elegance of this place from terraces or gardens. From food and spa to traditional wine boutique; you will have everything here. The splendid white-washed and ivory-clad exterior of Borgo Egnazia sets it apart from the rest of the Italian wedding venues. The menu and food can be altered and replaced according to your taste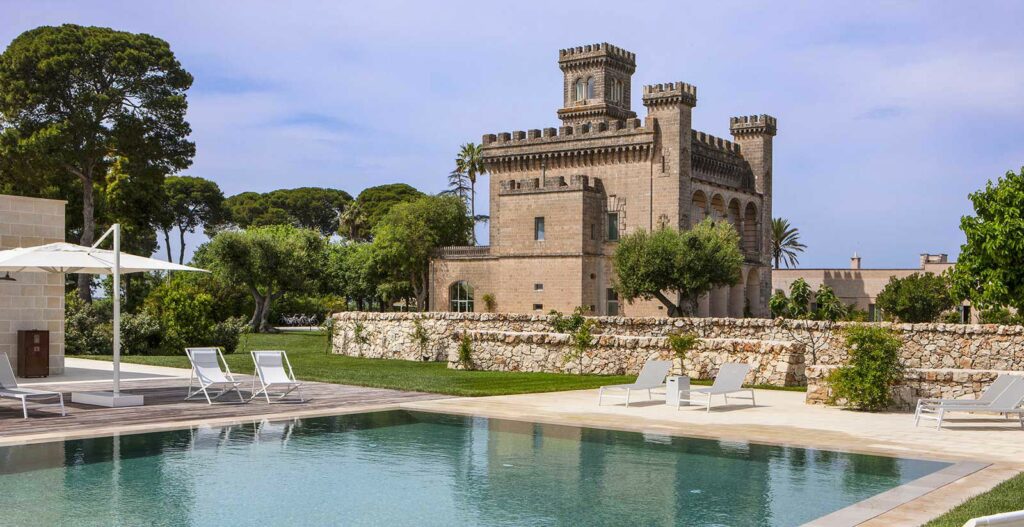 Vinilia Wine Resort
Dating back to the early 1900, Vinilia Wine resort is an elegant and stylish retreat for your wedding. The outdoor venue is adorned with a beautiful and lavish pool with a bar. Ensuring comfort, privacy, and elegant beauty, this place is the one to spend quality time with your friends and family following your wedding days.
Having 18 double rooms at your disposal, it is a venue for you if you are looking for a place to throw an elaborate Puglia wedding. You will experience the most delicious culinary treat here at the Casamatta Restaurant.
Masseria Traetta
Located 10 minutes away from the white city of Ostuni, the venue offers amazing grounds indoors and outdoors to ensure that you have an amazing time throughout the wedding season. The location also has four bedrooms that provide a comfortable place for the bride and bridesmaids to get ready before the main ceremony.
The wedding is held on its amazing terrace engulfed in the stunning southern Apulian Horizons. The wedding ceremony is followed by a buffet and starters accompanied by a seated dinner. Your guests can enjoy and experience a spectacular sunset from the terrace of Masseria Traetta.
Masseria Le Carrube
A traditional Masseria with stoned architecture and ivory tiled terrace elevating the white-washed exterior of this stunning venue makes it yet another gorgeous destination for a perfect Puglia wedding. Situated on the feet of the hill which gives rise to the backdrop of The White Town, this is a rustic and unique-looking place to make your wedding backdrop.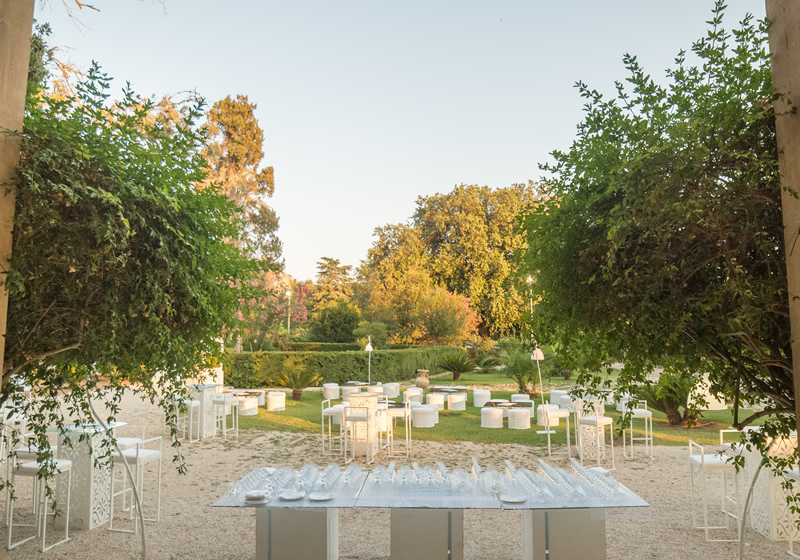 Villa Zaira
Situated on an area of seventeen hectares this beautiful location is located in the heart of Puglia. It is surrounded by amazing olive trees and ancient oak trees. With the southern horizon giving it an authentic touch, this is definitely the place that you should choose for your dream wedding.
Masseria Potenti
This stylish and elegantly built location is a gorgeous hideaway for you to host an intimate wedding. It is gorgeously frescoed but rough around the edges. With lush gardens and a grand pool, this destination screams luxury. The wedding ceremony is held under the curtains of the deep sky glinting with candles and a shimmer of stars. To summarize, this is a perfect dreamscape for your wedding.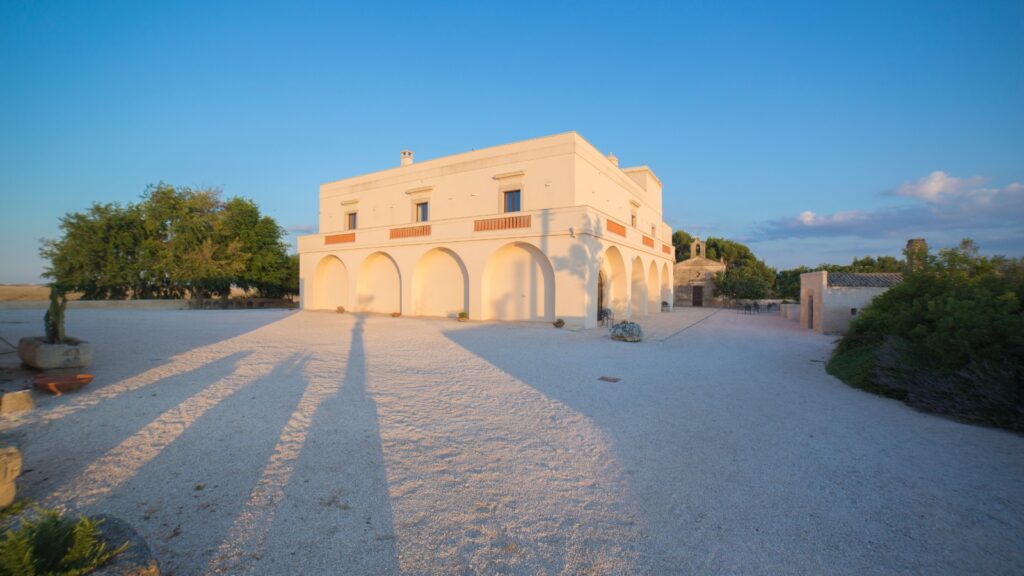 Masseria Fontana di Vite
That one is straight of a fairytale: A beautiful historic mansion converted into a boutique hotel gives you all the fells you want for your puglian wedding. And can we please talk about the view? Overlooking Matera Masseria Fontana di Vite is nestled on a hill surrounded by ancient fields. We fell in love with that place and cannot wait for a very special wedding we will capture here in July 2023.
Beach venues
Good news for beach lovers: one of the gems of the Puglia region is its amazing beaches that provide a perfect backdrop for your Puglia wedding
Masseria Torre, Coccaro
If you want a traditional country Puglia wedding then this is the place for you. It is a perfect fit for a grand destination wedding where you can invite absolutely everyone to your big day. Throw a big reception (or a small one, it is really up to you) in the rustic décor of Masseria Torre. Surrounded by the enchanting estates of olive, almond, and carob, this 16th-century farmhouse is a gorgeous stone's throw from the beach.
You can choose to have a small symbolic wedding in the consecrated chapel or outdoors in the lush and beautifully lit gardens. The gardens are decorated with mesmerizing lights that make your evening more magical. The food is impressive and rich in authentic Italian specialties. Moreover, you will also have exclusive access to the stunning Mediterranean beach.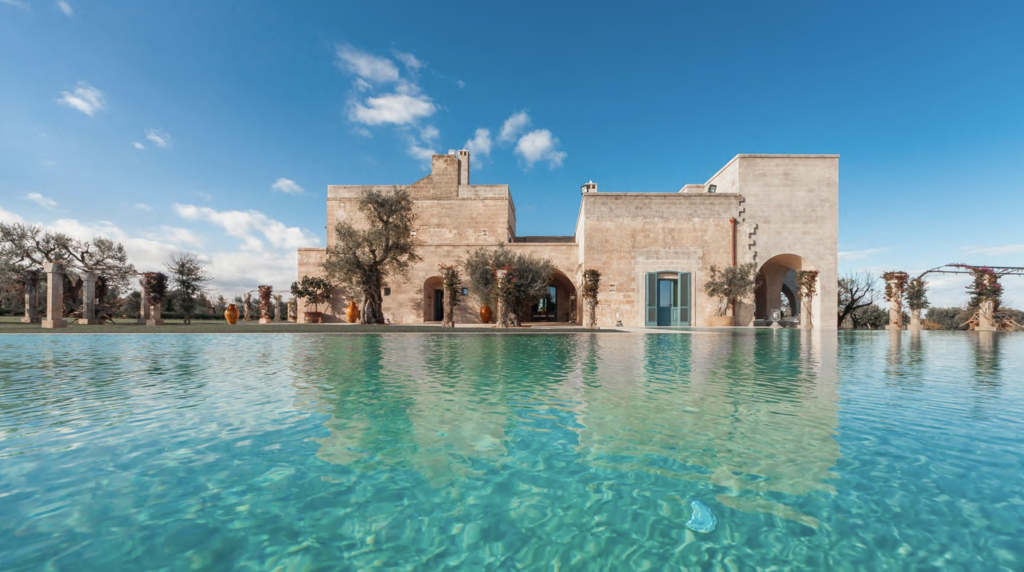 Pettolecchia La Residenza
Your search comes to an end here if you have been looking for a gorgeous villa venue to hold an intimate wedding with close friends and family members. The Pettolecchia La Residenza is a private villa, located in the most exclusively bestowed region of Fasano and Savelletri. You and your guests can enjoy the sweet panoramic views of the Mediterranean Sea, breathe in the fresh country aromas, and explore the traditions of Puglia. You will be able to spend quality time for a whole week with luxurious five-star amenities.
You can make your visit worth remembering by enjoying a quiet picnic in hectares of olive groves and cycling around the area on bikes given free from the venue. The main reception will be held in lush green gardens surrounding the pool. Simply put, this is the dreamiest place to throw an enchanting yet intimate wedding.
Masseria San Domenico
Nestled amongst the white-washed walls, the Masseria San Domenico is another marvel of Apulian wedding destination. The antique cathedral is a stunning place to exchange vows. The ceremony is followed by all the guests descending to the sumptuous seaside estate.
The reception is thrown beneath the starry sky creating a whimsical dreamscape for your special day. With neutral and whites fusing to create a magical backdrop, the venue is exquisitely adorned with cotton and rose flowers floating in the clear water and hydrangeas, roses, and orchids making it the perfect destination for your wedding.
Grotta Palazzese
This amazing destination is the most enchanting place to get married. It is a restaurant built in a natural cave with an amazing terrace place looking over a breathtakingly panoramic view of the clear water dancing beneath the setting sun. This is an ideal location for you if you have been looking for a unique place to make your day even more special and worth remembering.
The food is served beneath an open sky and the Mediterranean aroma of the beautiful seaside. The guests can enjoy the color-changing horizon as the day shifts into the night.
Castle venues
Who doesn't wish to get married in the elegant beauty of the historic castles? Thankfully, Italy can make your wish come true. The historically and traditionally rich Apulian castles can be your perfect Puglia wedding destination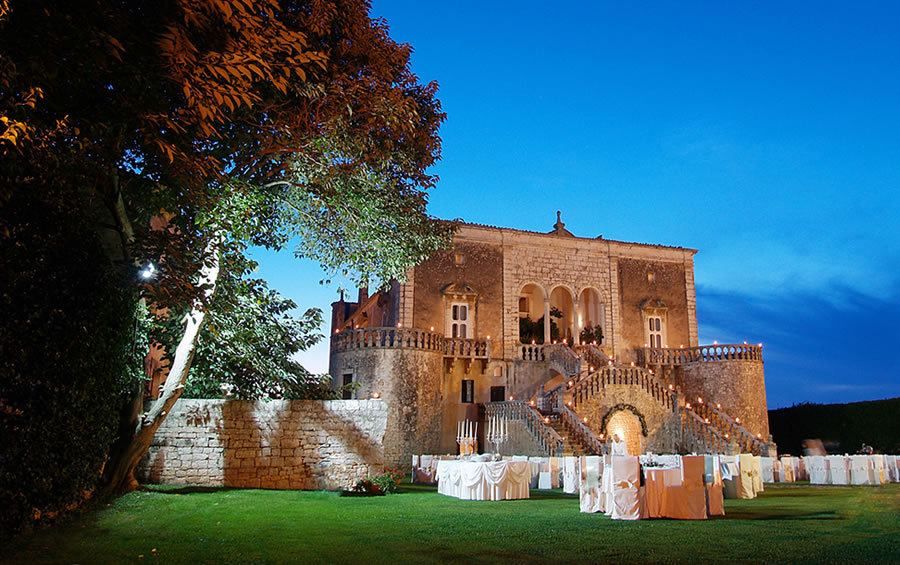 Castello Marchione
This 16th-century castle still has reminiscent of royal history. Located in Puglia's Salento region, Castello Marchione has inherited its name from the Basilian monks that settled there, centuries ago. Counts of Conversano used the venue as their summer residence and hunting lodge.
The venue offers both day and evening weddings. From the Winter Garden, the Garden at Statues, to the Garden of Chess, you can choose any ideal location in front of the ancient castle to hold the ceremony. With flowers, palm trees, and ivory clinging to the walls of the historic location, your day will not be any less than a royal Puglia wedding immersed in the beauty of the ancient towers.
Castello Monaci
What could be more enhancing than exchanging vows with your loved one in front of an ivy-clad ancient castle?
Well, Castello Monaci with hectares of olive trees and vineyards surrounding it is a perfect venue for your wedding. The castle is more than six centuries old and is one of the popular places to host a wedding in the heart of southern Italy. They have beautifully decorated rooms of all sizes indoors and a splendid garden adorned with lush palm trees for an entrancing outdoor ceremony. Be it an elaborate or small wedding, this place can give you the wedding of dreams filled with amazing memories. The castle is not only refurbished with finely restored architecture but it is also the finest winery. The open vineyards surrounding the venue provide grapes to create delicious wines that you can serve to your guests.
We end your search for a perfect dream Puglia wedding destination here with this list of the best and the most magical wedding destinations in southern Italy.
Be it the magical horizon of the Mediterranean sea, ancient castles, or farms nestled among hectares of olive groves; our list of dreamiest Puglia wedding venues is going to find a perfect fit for you to tie the knot with your partner.
You can visit The Santoros wedding guides to browse more such wedding venues set in beautiful landscapes and the traditional history of the old town. You will also find everything that you need to consider before planning your dream wedding. Check out our blogs right now and book your dream wedding venue!
If you are looking for a photographer, stop! You could not do better than these guys.

Jazz Saetrang
That's right, contact us today and we will make sure that you receive a tailored experience and unforgettable memories